---
Additional Information
---
Content
Nike ad steals World Cup thunder
Nike has been linked to the World Cup more than any of the tournament's official sponsors, despite not being an official sponsor of the event, due to a successful TV campaign, according to a new report.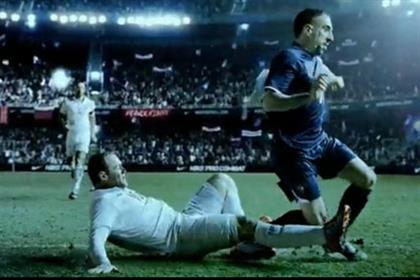 Nike World Cup ad: starring Wayne Rooney
Nike's campaign, 'Write the Future' by W+K Amsterdam, featuring world-class stars such as Wayne Rooney and Cristiano Ronaldo, has had twice as many references related to the World Cup than its rival, World Cup official partner Adidas.

Designed to celebrate the pivotal moments in football history, the ad also features Didier Drogba, Andres Iniesta and Cesc Fabregas.
Its coverage was measured across online blogs, message boards and social networking sites, research from The Nielsen Company shows.
Nike's three minute full-length video has attracted almost 14 million hits on YouTube since the middle of May.
Adidas however, has it back with its own Star Wars-themed World Cup video staring David Beckham. The ad has drawn in over two million views since its release last week.
Carlsberg also thrashed rival and World Cup sponsor Budweiser by having four times the level of coverage in relation to the tournament over their competitor. This was partly attributed to Calsberg's 'legends' ad created by Saatchi and Saatchi.
The 90-second spot features English sporting legends including Sir Trevor Brooking, Jack Charlton and Stuart Pearce, who combine to deliver "Probably the best team talk in the world" to the England team.
The Nielsen Company vice-president of digital strategy Pete Blackshaw, said: "If you're a company with a large global footprint, it's natural to want to associate yourself with a major worldwide event like the World Cup.
"This study shows that compelling, savvy marketing can establish this sort of connection in the eyes of consumers without having to write that expensive sponsorship check."
Nike's strong association with this year's World Cup was echoed in this week's street interviews conducted by Brand Republic.

FIFA partner Coca-Cola, however, made sure it was not beaten by its rival Pepsi during the World Cup, despite Pepsi's 'Oh Africa' ad, featuring football stars such as Lionel Messi, Thierry Henry and Kaká, which has generated over a million views online. Coca-Cola still managed to have five times the level of mentions around the World Cup.
This article was first published on marketingmagazine.co.uk
comments powered by

Disqus
---