---
Additional Information
---
Content
PC World and Currys' staff attack customers on Facebook
LONDON - Dozens of staff claiming to work at PC World and Currys have been caught launching fierce attacks on their own customers, with some branding them 'retards' and 'twats'.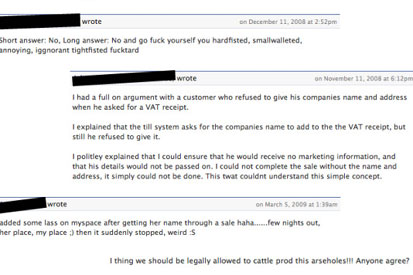 Photo courtesy of Bitterwallet
A Facebook group titled DSGi Employees - the parent company for PC World and Currys in the UK - was found to house frank conversations between DSGi staff with contemptuous comments aimed at the retail chain's customers.
Topics cover internal policies and training, but criticism of customers proves consistently popular, with discussions ranging from 'Chatting up customers....' to 'Arsehole customers!', 'Really Stupid Customers!' and 'Some customers are really really stupid.....'.
The description of the group points out: "This isn't a group for those who love and adore DSGi, just one for people who work/have worked for the same company. Please bear in mind that this is an UNOFFICIAL Dixons Stores Group plc, Discussion forum/Community, any views/opinions expressed on this page by either the group creator or it's members are those of the individuals only and not of DSGi plc or any of its affiliates."
However, many contributors use their real names and reveal their location and store number in another discussion called 'Which branch?'.
The comments were discovered by the consumer action blog Bitterwallet and its self-confessed "crack team of pissed off consumers".
Amongst the comments discovered by Bitterwallet include a continuous barrage of insults towards customers - one employee refers to a shopper as a 'retard' while another suggests any customer asking for discount should 'go fuck yourself you hardfisted, smallwalleted, annoying, iggnorant [sic] tightfisted fucktard.'
Other employees state that some customers deserve a 'back hand' or a 'punch'; one person asks other employees whether they should be 'legally allowed to cattle prod this [sic] arseholes!!!!'
While another member of staff boasts of sexual liaisons with a customer after using details from a sale to add her as a friend on MySpace.
Paul Smith, editor at Bitterwallet, wrote: "What makes this even more astonishing is that according to group members, senior management are apparently aware of the Facebook group's existence and read through the comments on a regular basis; one member of staff claims to have been disciplined for offering poor sales advice through the group to another employee: 'Watch your backs,' he warns, 'big brother/head office is watching.'"
No one from DSGi's corporate or consumer public relations teams were available for comment.
Similar staff mutterings on Facebook have resulted in employee discipline, including Virgin Atlantic, which launched an 'investigation' after staff were found badmouthing their customers last year.
In July, Primark promised to probe its staff after several employees posted "malicious" Facebook comments about customers, calling them fat, pikeys, and twats.
In January, Waitrose and Tesco also launched investigations following the revelation that some employees had posted abusive comments about customers on various Facebook groups.
This article was first published on marketingmagazine.co.uk
comments powered by

Disqus
---