---
Additional Information
---
Content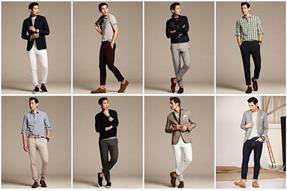 Banana Republic has launched an online boutique to promote signature looks for different professions, including the stereotypical Silicon Valley "start-up guy".
More
Related stories
Breaking news

Britvic is on the hunt for a UK marketing director following the appointment of incumbent Jonathan Gatward to the post of global category and capability director.
Specsavers' creative director Graham Daldry describes how his in-house team turned Luis Suarez biting an opponent into a viral ad for his brand in less than 16 hours.
Stuart Duncan, the former chairman of Crawfords, whose advertising career spanned more than half a century, has died aged 85.
Part of what makes this ad so affecting is the juxtaposition of black and white footage and 1920 s setting, soundtracked by an unnerving late 90 s techno song. Working from a first person perspective, the ad follows a young man in what appears to be ...
Created by John Webster for BMP DDB, the now somewhat controversial cartoon shows a young boy denying a crow a drink of his Kia Ora, saying "It s too orangey for crows, it s just for me and my dog". A succession of crows then follow the boy offering ...
This ad is about a twister s destructive power, with dramatic footage of a storm interspersed with shots of a single Volvo handling the rampage. Beautiful cinematography and an affecting score add emotion to the ad, heightened by a voiceover explaini...
I recently joined hundreds of young people just starting out in the ad industry and graduating from the Institute of Practitioners in Advertising's Foundation Certificate. Here are some of the top eight things I learnt.

Always' "like a girl" ad by Leo Burnett tops the Campaign Viral Chart for the second time in three weeks.

Tim Leake, the former global creative innovation director at technology education company Hyper Island and the SVP of growth and innovation at California-based RPA, argues that agencies need to be "more creative" about creativity.

Brand needs to start sharing their tacit knowledge with information-weary consumers, writes James Brown, strategist at digital agency Zone.
WCRS has appointed Dino Burbidge to the newly-created role of director of technology and innovation.
Account reviews
Account wins
Latest campaigns
---