---
Additional Information
---
Content
The five hottest location-based apps (so far)
LONDON - With Twitter about to unveil a new feature that will add latitude and longitude to any tweet, we've put together a list of our five favourite location-based apps.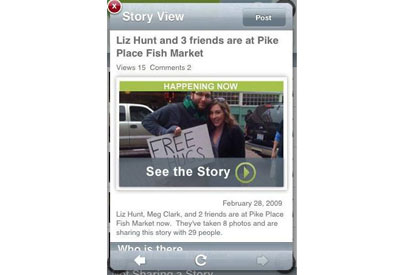 Whrrl is one of the hottest location-based apps around
1. Twitter
Twitter's location tags will let users view tweets by people in their city, neighbourhood or building or follow tweets from a particular event, concert or area of breaking news such as an earthquake zone. Small businesses could use the feature to target users in the immediate area offering deals and discounts. Find out more
2. JustBought.It
JustBought.it is a social shopping app that lets you share photos and tweet about great shopping deals as you find them. The service is also used by shoppers looking for bargains in a particular area, or to ask other users for shopping advice. http://justbought.it/
3. Wrrl v2.0
iPhone app Whrrl encourages users to combine photos, stories, and their location with the photos and stories of their friends to form a collective experience with greater depth than Twitter conversations and Facebook updates. You can see what's happening in your network, view your friends' updates on a map and add comments. iPhone App store
4. Wikinear
Wikinear figures out where you are and tells you the five most interesting locations near you using entries in Wikipedia and Google Maps. Useful when you're travelling or have moved to a new area and are keen to learn its history. http://wikinear.com
5. Yowza!
Founded by Heroes star Greg Grunberg, Yowza! Capitalises on our eagerness to save money in the recession, using your location to automatically find and download exclusive discount vouchers from a range of retailers. Although only available on the iPhone in the US, the app will eventually roll-out to the UK. http://getyowza.com
This article was first published on marketingmagazine.co.uk
comments powered by

Disqus
---