---
Additional Information
---
Content
Microsoft beware - UK businesses are going Google
LONDON - One in ten Microsoft small business customers intends on ditching Word, Excel and Outlook to more 'cloud' compatible or Web 2.0-friendly platforms this year, including Google Docs and Gmail.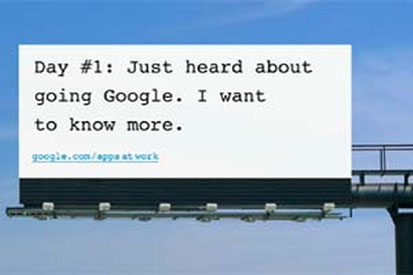 Google's Apps at Work billboard campaign
According to an Accredited Supplier, a B2B research firm, Microsoft is losing its grip on the UK small business market under increasing pressure from browser-based applications and open source software.
A poll of 1,400 Microsoft customers in the UK found that 13 per cent plan to switch to Google Apps within the year, while 22 per cent are undecided, and only a third (36 per cent) plan on sticking with Microsoft.
The poll follows Google's large-scale marketing campaign to promote its suite of online office applications, asking people to ditch Microsoft Office and 'Go Google'.
Accredited Supplier's research did not ask whether businesses would be switching to Microsoft's Office 2010, which is expected to be cloud compatible, pending its release next year.
However, research spells trouble for Microsoft's Windows 7 - its newest operating system, expected in October. Only 8% of small businesses plan to upgrade within 12 months of Window's 7 release.
Small businesses are warming to the idea of 'cloud' computing, with two-thirds showing preference to have their business applications work through a browser, like Google Docs.
The decline of Internet Explorer is particularly prevalent in the UK small business market as well, with Firefox taking nearly a third of the market, compared to a fifth worldwide.
Google said about 1.75m businesses and organisations are now using its applications instead of Microsoft's -- a mere drop in the bucket to millions of businesses that use Microsoft Office.
This article was first published on marketingmagazine.co.uk
comments powered by

Disqus
---