---
Additional Information
---
Content
Don't get mad, get tweeting
LONDON - What happens when you tell your 1,000,000-plus Twitter followers about your broken washing machine? It gets fixed - as appliance brand Maytag learns the unwieldy power of Twitter and mommy-bloggers.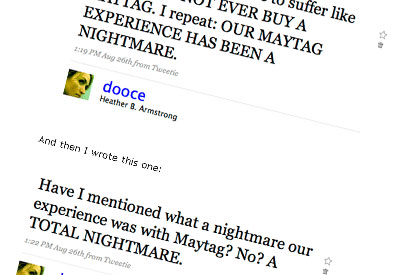 Maytag avoids public relations nightmare
Last month, blogger Heather Armstrong, who writes for the immensely popular parenting blog Dooce in the US, gave the appliance giant Maytag a public relations scare after she asked her million or so followers to boycott the brand after her recently purchased $1,300 washing machine stopped working.
After days of delays with Maytag repairmen, and a particularly bad row with Maytag's customer call centre, Armstrong wrote on her blog: "Okay then, I say, almost begging at this point, almost to the point of tears, is there anyone I can talk to who might see what I've been through and understand?
"And here's where I say, do you know what Twitter is? Because I have over a million followers on Twitter. If I say something about my terrible experience on Twitter do you think someone will help me? And she says in the most condescending tone and hiss ever uttered, 'Yes, I know what Twitter is. And no, that will not matter.'"
After speaking to a supervisor, Armstrong writes: "Okay then. I hang up the phone, calmly walk over to my computer, pull up a browser and write this twitter:"
A screengrab of her Twitter account, showing the tweets:
"So that you may not have to suffer like we have: DO NOT EVER BUY A MAYTAG. I repeat: OUR MAYTAG EXPERIENCE HAS BEEN A NIGHTMARE."
And,
"Have I mentioned what a nightmare our experience was with Maytag? No? A TOTAL NIGHTMARE."
And,
"That brand new washing machine from MAYTAG? That someone has been out to fix three times? STILL BROKEN. DO NOT BUY MAYTAG."
All of which were read by her 1.2 million Twitter followers.
Armstrong said within hours, she was contacted by a number of big name appliance brands, including Maytag's parent company Whirlpool, which fixed the broken machine the next day.
She wrote: "And then the following morning I get a phone call from Jeff Piraino, manager of the executive offices of Whirlpool Corporation in Michigan.
"That, my friends, is service."
This article was first published on marketingmagazine.co.uk
comments powered by

Disqus
---