---
Additional Information
---
Content
Facebook must raise its game in the mobile space to reverse UK slump
Are you suffering from Facebook fatigue? If so, you are not alone.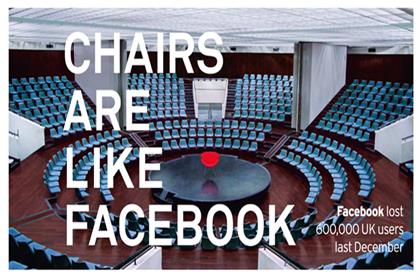 According to data from social-media monitor SocialBakers, the network suffered an unexpected slump in UK visitors last December - shedding a huge 600,000 users, equating to a decline of 2%.
The drop might reasonably be attributed to a seasonal dip, with many users choosing to go on holiday or spend time with family, rather than logging on to websites. However, the figures have led many experts to speculate that Facebook has reached its peak in the UK - its sixth-biggest market by subscribers, with more than half of the population having an account. Moreover, the UK was the only one of Facebook's 10 busiest territories to post a decline.
Meanwhile, alternatives to Facebook continue to expand, with an increasing number of people taking to Twitter and Google+, to name but two competitors. Facebook has also struggled to make inroads to the mobile space, although the company is looking to raise its game to take advantage of the growing significance of smartphones and tablet devices in people's everyday lives.
So has the site reached its social limit in the UK and other core markets, and will its continued growth become more dependent on the developing world? What can Facebook do to lure lost users back to the site and become more relevant and useful? We asked Dominic Cook, managing director of social-media marketing agency 33Seconds and a former director of marketing and content at Myspace, and Jason Anderson, head of creative technology at WCRS.
FACEBOOK STATS
33m - Number of Facebook users in the UK, its sixth-biggest market
169m - Number of Facebook users in the US, its biggest market
Source: Facebook
BRAND HEALTH CHECK DIAGNOSIS
Dominic Cook, managing director, 33Seconds (and former director of marketing at Myspace)
Facebook is the biggest social-media platform because it is the best place for people to connect and share.
Brand plays its part, but in this highly competitive space, the product needs to be market-leading for Facebook to retain its position. You have only to look at Myspace, which in 2008 had a strong brand, but the ability to connect and share was no longer competitive, allowing Facebook to edge ahead. Facebook is dealing with increasingly stiff competition; users want a more tailored experience.
Newer, rival platforms have business models based on smaller numbers so can survive with a smaller share of the market, but this is not the case for Facebook.
REMEDY
Continue to innovate around the core proposition: connecting and sharing (possibly through strategic acquisitions where necessary).
Balance the demands from shareholders and users in generating revenue.
Effectively communicate product developments with the audience; and the strategy with shareholders.
Jason Anderson, head of creative technology, WCRS
First, the access numbers count mobile and desktop users uniquely; as more people access the service solely via mobile, then some of these dual-hit user numbers will be lost.
Second, Facebook is a global service, so losing some users in just one territory, while still growing at an astonishing rate elsewhere, is unlikely to be a big issue. Also, I don't believe the territories are hugely connected; most communication on Facebook is within geographically close groups.
Third, as Facebook does have 'critical mass' in the UK, it is becoming increasingly difficult for certain audience segments to feel like it's their own space, which is why teens are moving to Tumblr and Pheed.
REMEDY
Undertake more innovation in the mobile space, beyond a mobile version of the regular site.
Create a period of stability in the never-ending monetisation experiments, which seem to be a major pain-point for some users.
Find a simpler and more powerful way of using Groups (so your mum doesn't see that party you went to...). Google Circles does this well.
This article was first published on marketingmagazine.co.uk
comments powered by

Disqus
---