---
Additional Information
---
Content
No 77: Lou Klein's D&AD Pencil
At a time when advertising awards are so plentiful that their value is often debased, the status and integrity of a D&AD Pencil has never been in doubt.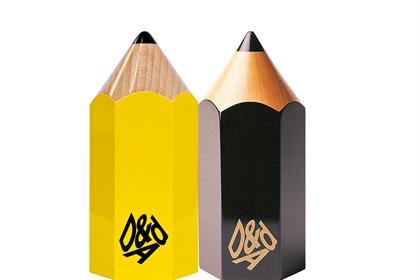 Things you need to know
Having designed the D&AD Pencil, Klein went on to win five of his own.
Gill, Colin Millward, Bob Brooks and Colin Forbes were among the leading industry figures who founded D&AD as London's answer to the Art Directors Club of New York.
Klein's career has included stints as a lecturer at colleges on both sides of the Atlantic, including the Royal College of Art. He has also been a visiting professor at Yale.
While many other awards organisers tend to ensure every category has a winner, D&AD Pencils are never handed out unless the work is good enough.
Win one and, according to one industry observer, your bragging rights are massive and eternal. A Pencil, he adds, is the equivalent of a "career knighthood".
The origins of this object of desire go back to 1966, three years after the launch of the then Designers & Art Directors Association of London.
Up until then, D&AD winners were presented with actual-size black pencils in an ebony case designed by Marcello Minale. They came in two varieties, the pencils having gold and silver leads produced by the Worshipful Company of Goldsmiths.
The problem was that the trophies were too costly to produce and too fragile.
The solution was provided by Lou Klein, a newly appointed D&AD committee member who volunteered to come up with an alternative. His answer was the all-wood black and yellow Pencils.
Klein was an American who had come to London at the invitation of his fellow countryman Bob Gill, one of D&AD's founding fathers, whom he replaced as an art director at the agency Charles Hobson.
Klein and Gill were among a number of US creatives to cross the Atlantic at that time and who – in the words of one industry historian – "shook up the moribund British advertising and design scene with a splash of US graphic swagger".
Klein, who also worked as a creative director at Grey, later founded Klein Peters with Michael Peters, the godfather of British design.
This article was first published on campaignlive.co.uk
comments powered by

Disqus
---