---
Additional Information
---
Content
History of Advertising No 87: The first ad with sex appeal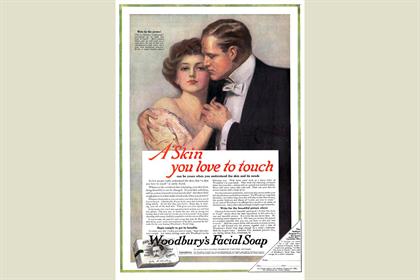 Things you need to know
Woodbury soap had been promoted as an aid to removing skin blemishes before Lansdowne Resor repositioned it. In the following eight-year period, sales soared by 1,000 per cent.
By 1918, her women's editorial department was credited with pulling in more than half the billings of JWT in New York.
In 1917, she married Stanley Resor, JWT's owner. She died aged 74 in 1964 and was posthumously inducted into the Advertising Hall of Fame.
Looking back with the benefit of a century's worth of hindsight, it's hard to understand what all the fuss was about over what is regarded as the first ad using sex to sell.
Indeed, the images of elegant young ladies receiving the admiring attentions of dashing men in dinner jackets seem positively chaste by today's sexually liberated standards.
Yet there was a lot that was remarkable about JWT's campaign for Woodbury's Facial Soap under the theme "A skin you love to touch" that first appeared in the US in 1911. And it wasn't just because of the uproar it caused by portraying a product – and the women who used it – in such a sensual way.
For one thing, the ad was created by a woman – Helen Lansdowne Resor – regarded by some as the world's first female copywriter.
Not only was Lansdowne Resor a pioneering figure within an environment where women were as plentiful as snowflakes in July, she came to be regarded as the greatest copywriter of her generation. Nancy Stephenson, one of her protégés, said: "She had a brilliant mind that darted and dipped and swooped with terrifying speed and accuracy."
She was also something of a contradiction. Even though Lansdowne Resor was the first to latch on to the fact that sex sells, she was also a champion of women's rights.
And long before ambitious women regarded advertising as a career in which they could shine, her mentoring of them earned JWT a reputation as a place where women had a chance to succeed.
Among Lansdowne Resor's initiatives was the establishment of a women's editorial department within JWT where she encouraged women to share their ideas freely.
This article was first published on campaignlive.co.uk
comments powered by

Disqus
---