---
Additional Information
---
Content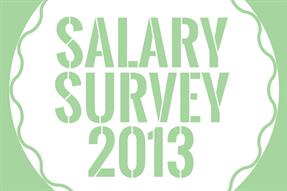 You (mostly) love your jobs, and you're even getting paid a bit more to do them, finds the latest survey of marketers' salaries. By Jane Simms.
More
Related stories
Latest analysis
From Paddy Power's ill-advised recruitment of Dennis Rodman as a world peace envoy, to the horsemeat scandal which enveloped the UK's retailers, Marketing recounts the biggest mishaps of 2013.
Wieden & Kennedy has out-done Willy Wonka himself with its latest window display.

It's been a year of pessimism, optimism and pretty much everything in between. As 2013 draws to a close, we identify the marketing highs and lows that show it was anything but an "Empty 13".
This week, Campaign is loving Mark Carroll, senior campaign manager, TMW. Here's why...

Agencies that lose their independence usually lose their mojo too. Johnny Hornby proposes an ownership model that enables them to flourish.
The best books to find in your Christmas stocking: five not-to-be-missed business reads for marketers

Agency creative departments may not be the laddish retreats they once were, but women recruits are neither rushing to break down their doors nor being welcomed inside. The still small list of female creative chiefs at Britain s major agencies is a sa...

Other things we like this week include UsVsTh3m reaching seven million uniques and growth in web shopping on Cyber Monday.

DCM hopes its £200 million investment in technology will revolutionise cinema advertising. David Benady reports.

It may be more blessed to give than receive - but it's also less lucrative. So in that fine spirit we asked a host of agency folks, regardless of whether they have been naughty or nice in 2013, what they would ask for if Father Christmas (Sinterklaas...

Jeremy Lee is greedy for the new Harvey Nichols spot: "Amid all the Christmas schmaltz some of which emanated from this very agency the avarice on display in this ad has an all too realistic feel to it." The work was written by Daniel Fisher, art...
James Swift doesn t think much of the latest G commercial: "Commenters on Campaign s website have been far more vitriolic about this ad than I could ever be. Suffice it to say, the spot s only redeeming quality is that it is instantly forgettable. M...
History of advertising
Social Tracker
Brand barometer
---