---
Additional Information
---
Content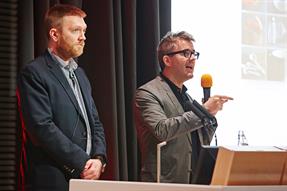 Brands continue to invest in the 'rich spectrum' offered by press, the Newsworks conference confirms. By Arif Durrani.
More
Related stories
Latest analysis

The supermarket's data division, Dunnhumby, aims to make digital advertising more personalised, its chief executive, Simon Hay, tells David Benady.

The nominations for this year's D&AD Awards demonstrate how agencies from all over the world are now capable of creating so much more than routine ads. Here, Laura Jordan Bambach dissects some of the most intriguing.
Walter Campbell, a creative director at TBWA\London, co-wrote Under The Skin with Jonathan Glazer (who also directed it). The two had worked together before, including on Guinness 'surfer'. The film is based on a cult novel by Michel Faber and stars ...

Adland has much to learn from the Korean pop music industry when it comes to turning its best people into multi-faceted, rounded talent. By Josette James.

Things we like this week include Mad Men, the IAB and the Media Week Awards 2014 co-chairs.

James Swift is impressed by The Pilion Trust's new campaign.

Fortune came up with the most graphic comment on the seismic events of 2 April 1993 that rocked the marketing world to its foundations. It was, the magazine declared, "the day the Marlboro Man fell off his horse".

Louise Ridley feels Dove's latest spot lacks the usual magic.

Mark Banham asks if the corporation's international radio network should be allowed to start carrying advertising.

Media owners hope to woo brands by bringing ITV footage to Twitter through its Amplify service, David Benady writes.

In sharp contrast to the supercharged pace of change in Britain's ethnic make-up, progress in boosting the number of staff from ethnic minorities in UK agencies has been snail-like.

Creativity in the digital world and data's role in trading were hot topics at Advertising Week Europe. By Paul Frampton.
Social Tracker
Brand barometer
---