---
Additional Information
---
Content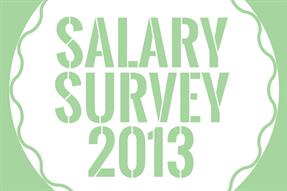 You (mostly) love your jobs, and you're even getting paid a bit more to do them, finds the latest survey of marketers' salaries. By Jane Simms.
More
Related stories
Latest analysis

1. Steve Hatch "Shicklegate" would have spelt the end for some leaders. After the damaging leaked e-mail attracted such embarrassing and negative publicity to a business trading on its reputation, MEC and Group M needed a steady hand on the tille...
1. Simon Daglish and Kelly Williams ITV had a very successful 2013. The group commercial sales directors "Kelly for the dough and Dags for the show" have transformed the broadcaster s sales offering over the past 24 months, and ITV won TV Sales...

1. James Rouse Professionally, Outsider s Rouse has probably never had a better year. The highlight must be Marmite s blockbuster spot "Love it. Hate it. Just don t forget it" he even helped secure the services of Michael Buerk as the narrator fo...

1. Mark Collins Collins 2013 got off to a particularly feisty start after he became involved in a very messy and all-too-public spat with Channel 4 over its airtime deals. It was finally resolved with both sides claiming "a draw", but the managing...
1. Marmite, Love it. Hate it. Just don t forget it The latest Marmite spot was, like the spread itself, not to everybody s taste. The film, which spoofed documentaries about animal-protection services, featured the "Marmite Rescue Team" f...

1. Harvey Nichols, Beauty Bazaar Hedonism has never been in short supply when it comes to Harvey Nichols advertising. And this ad announcing the opening of the Beauty Bazaar at the company s Liverpool store is no exception. The poster not only m...
1. Lurpak, good proper food Who hasn t seen a Lurpak ad without having a sudden urge to dash into the kitchen and whip up something tasty? It is testament to how a seemingly unexciting brand has successfully built sales with a simple idea. The ad...
1. RNLI, your legacy is our lifeline A powerful image of a lifeboat ploughing through rough waters, combined with some punchy copy, add up to a compelling ad from the RNLI that uses the Featurelink service to appeal to people to think about leavi...

1. Dove, auto-tune Agency: Ogilvy Mather Creatives: Denis Kakazu, Giles Montgomery, Stephanie Symonds Producers: Mark Campbell, Tom Heddy, Sally Miller Facilities houses: One More Music Company, Wave Script SFX: A woman sings, her...

1. Sue Unerman To help propel an agency to the top through its strategic work takes some doing, but to keep it there for ten years demonstrates a scary strength of will. Unerman is one of the most senior Group M leaders to resist the call to go int...
1. James Murphy Adam Eve/DDB has rattled a few cages at awards ceremonies this year indicative of the galvanising effect Murphy and his team are having on what had looked a rather out-of-sorts DDB before its Omnicom parent brought Adam Eve in...

1. How can I stop my hairdresser talking to me when she s cutting my hair? I know they are trained to engage with customers, but all I want is some peace and quiet to catch up on GQ and Nuts. It s with great joy that I m able to share with you an a...
History of advertising
Social Tracker
Brand barometer
---