---
Additional Information
---
Content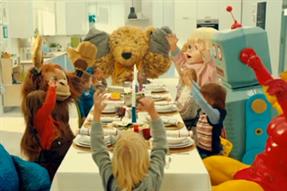 Ogilvy & Mather London, Mother London and 4Creative all won Gold Lions this evening, as UK companies took home 22 Lions, ten more than last year.
More
Related stories

The ambition of Chipotle's Farmed And Dangerous series of online shows is laudable, but the result is a big cowpat of content that does the restaurant chain no favours, Peter Souter says.

Abbott Mead Vickers BBDO has promoted its creative partners Steve Jones and Martin Loraine to deputy executive creative directors.

It's almost 11 years to the day since James Murphy became Rainey Kelly Campbell Roalfe/Y&R's first managing director.

This summer, Australia s cricket team basked in the triumphal glow of Ashes redemption. It was a brilliant time for a quasi-Brit to arrive in Sydney. The feeling in adland was similar as local campaigns dominated at last year s One Show, D AD and Can...
Mark Hunter, the former Deutsch LA chief creative officer, has resurfaced at SapientNitro in a senior creative role.
Crispin Porter & Bogusky has launched in São Paulo after hiring an award-winning creative duo from Almap BBDO.
As this is the final View from the Top [look out for a fresh format next week ed] , I can bend the rules a bit and move away from the "breakfast in Vienna, lunch in Paris and dinner in London" routine. That is for people who mistake travel for wor...

With long nights and cold days, January is the month when most of us are at our most miserable. Campaign took advantage of the prevailing mood to poll readers on what they thought was the most emotional ad ever shown in the UK. More than 1,000 people...

Last week, on Campaign's front page, the French creative duo Frédéric Raillard and Farid Mokart provided an amusing lesson in how to respond to clients that decide to put their business up for review for no apparent reason. "The new Wrangler guy does...

The British Heart Foundation has ended its six-year relationship with Grey London.

Wrangler, the US jeans brand, is searching for a creative advertising agency in Europe after splitting with the French shop Fred & Farid.

Mother has promoted Chris Gallery and Katie Mackay to joint heads of strategy, replacing the chief strategic officer, Dylan Williams, who quit to join Publicis Worldwide last week.

Now has recruited Melanie Portelli to run its Butlins account, as well as being responsible for new business and PR as marketing director.

Cadbury's new "Keith" ad is one of the best ads the brand has ever done, according to Matthew Williams, the marketing activation director at Mondelez International, who has likened it to "eyebrow dance" and "gorilla".

Abbott Mead Vickers BBDO has hired Neil Clarke and Jay Phillips, creative directors from CHI & Partners, to the same role at the agency.

The UK ad industry spends millions each year entering awards. But what do agencies get out of it? James Swift finds sustained success is money in the bank.

JWT London has hired the former Fallon creative John Cherry as a creative director.

Integrated agency Doner London has absorbed digital design shop Yuki Media after being appointed to handle Fiat Group's UK digital work.

SapientNitro has continued to blur the line between digital ad agency and innovations lab by building a body of eclectic and pioneering work during a lucrative and award-winning year.
Bringing Audrey Hepburn to life, discovering the truth about Father Christmas and showing that ballet has a boisterous side were just three of the outfit's impressive achievements in 2013.
With an IPO and major commercial partnerships with Publicis Groupe and WPP under its belt, 2013 was the year that Twitter grew up. What a shame those pesky trolls didn't follow suit.
And so this is Christmas, and what have you done? Another year over, a new one just begun...

1. Craig Mawdsley and Bridget Angear Abbott Mead Vickers BBDO s strategy heads have made it a hat trick in the top spot of this annual listing. Mawdsley continues to be an admired leader for the planning industry as the chair of The Account Plannin...
1. James Murphy Adam Eve/DDB has rattled a few cages at awards ceremonies this year indicative of the galvanising effect Murphy and his team are having on what had looked a rather out-of-sorts DDB before its Omnicom parent brought Adam Eve in...

1. Nick Gill Gill has done the hat-trick. For the third consecutive year, he is top of the list of creative directors. While the Agency of the Year title eluded Bartle Bogle Hegarty this year an event that is almost as rare for BBH as winning it ...
1. Lurpak, good proper food Who hasn t seen a Lurpak ad without having a sudden urge to dash into the kitchen and whip up something tasty? It is testament to how a seemingly unexciting brand has successfully built sales with a simple idea. The ad...

1. Santander 123 account , Havas Worldwide London The sporting superstars Jessica Ennis-Hill, Jenson Button and Rory McIlroy could have been used to brilliant effect in this banking ad but, instead, the brand clearly didn t know what to do with th...

1. James Rouse Professionally, Outsider s Rouse has probably never had a better year. The highlight must be Marmite s blockbuster spot "Love it. Hate it. Just don t forget it" he even helped secure the services of Michael Buerk as the narrator fo...

1. How can I stop my hairdresser talking to me when she s cutting my hair? I know they are trained to engage with customers, but all I want is some peace and quiet to catch up on GQ and Nuts. It s with great joy that I m able to share with you an a...

Ogilvy & Mather London has appointed André Laurentino, currently TBWA/London's global creative director for McDonald's, as its global executive creative director for Unilever, including Dove and Hellmann's.
---