---
Additional Information
---
Content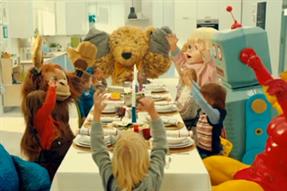 Ogilvy & Mather London, Mother London and 4Creative all won Gold Lions this evening, as UK companies took home 22 Lions, ten more than last year.
More
Related stories
Bartle Bogle Hegarty London has lured the Brazilian executive creative directors behind Dove's "real beauty sketches" to join as creative directors.

McCann London has hired Joe Koprowski and Peter Browse, a creative team from BMB.

The dark evenings of autumn have already consigned the dog days of Cannes to a distant, and slightly D Ott-addled, warm and fuzzy memory. They also mark the time for Campaign to hunker down in an artificially lit room and collectively reflect on a ...
"Write the Future" is one of the most successful Nike football campaigns, and it reveals how footballers have the chance to become legends during the World Cup. It envisages the glittering futures of football stars such as Wayne Rooney, Christiano Ro...
Diageo s Guinness campaign stars the Sapeurs, the society of elegant persons of the Congo in the Congolese capital Brazzaville. The Sapeurs are ordinary working men, who, after a day s work, transform into refined gentlemen in vibrant suits, braces...

A man in Australia has become what is believed to be the first person convicted of sex offences as a result of the lauded "Sweetie" campaign.

VCCP London has expanded its creative department by hiring BMB's Christopher Keatinge and Havas Chicago's Tom Houser as a creative team.

Is London once again a regional centre of creative excellence? It's an optimistic (and therefore attractive enough) theory that was put to me by one buoyant agency chief executive recently.
UK agencies are set to dominate the Grand Clio Awards this year, after winning five of the ten categories up for grabs.

The BBDO worldwide chief executive has long seemed destined for even greater things, Claire Beale writes. Yet, after ten years at the helm, Andrew Robertson still sounds like a man consumed by the job at hand.

The actor, singer, and producer - nicknamed The Hoff, is set to close the show at the IAB's tenth anniversary Engage: We've Only Just Begun conference on 15 October.

Save the Children has released a sequel to its successful 'Most Shocking Second a Day' film, which this time tackles illiteracy in the UK.
Find out how to embrace digital change and inspire an innovation-led culture with the right talent strategy with our free webinar on Monday 15 September at 2pm, hosted by The Knowledge Engineers and Brand Republic Jobs, in association with Live Recru...
Dove Men+Care has moved its global advertising account to Ogilvy & Mather, ending its relationship with Bartle Bogle Hegarty.

Leo Burnett London has poached the creative team Matt Collier and Wayne Robinson from DDB Chicago.

Move over London, New York and San Francisco: the largest media event in the world is not happening in the usual hotspots it s taking place in Germany later this month. The media, marketing and technology worlds will converge in Cologne for what is...
As JWT celebrates its 150th birthday, Bob Jeffrey takes a look at the agency's story, from its birth as the first advertising company to some well-known alumni to its long-lasting partnerships with global companies.
Save the Children is on the hunt for an agency to help the charity adapt to the changing digital landscape.

What is the role of today s "media" agencies? One topic that has arisen is whether they have the credibility, capability or creativity to be serious players in the area of "content marketing". I see it as a natural evolution. Our role has always be...

With Gwyn Jones' surprise departure from Bartle Bogle Hegarty - the only employer that he has ever known - industry chat has turned to whether the special covenant that Publicis Groupe promised when it fully bought out the shop still stands.

Sean Thompson, the chief creative officer at Dare, is leaving the agency to pursue a career in film-making.

David Prideaux, the executive creative director of Publicis Chemistry, responds to a suggestion from Bob Greenberg, the R/GA founder, that awards judges should accept "innovative" scam ads.
Take a look at Campaign's top 10 most read opinions and features from July.

Take a look at Campaign's top 20 most read news stories in July, which you might have missed.

Mike Boles and Jerry Hollens, a creative team that has been at Rainey Kelly Campbell Roalfe/Y&R for more than 15 years, have left the agency following a restructure.
Adam & Eve/DDB has bolstered its creative firepower with a burst of hires.
Unilever is understood to be revamping its global digital roster, as part of a strategy to build its integrated agency network.

Tim Leake, the former global creative innovation director at technology education company Hyper Island and the SVP of growth and innovation at California-based RPA, argues that agencies need to be "more creative" about creativity.

Omaid Hiwaizi, the chief strategy officer at Geometry Global, explains his hopes for a future of informed debate at Cannes Lions.

Wieden & Kennedy London has hired Danielle Noël and Thom Whitaker, the Mother duo behind the gold Lion-winning "playin' with my friends" work for Ikea, as a senior creative team.
---