---
Additional Information
---
Content
History of Advertising No 100: Ads of the Great War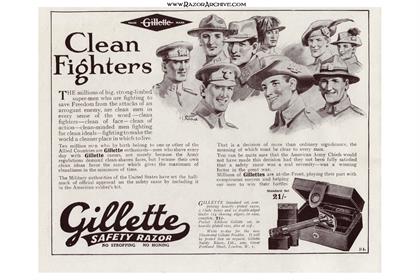 Things you need to know
The Great War provided a boost for own-label products as the government sought to cut imports of basic foodstuffs. Sainsbury's ran a big campaign promoting its margarine, Crelos.
Kimberly-Clark's Kleenex evolved out of crêpe paper developed as a filter for gas masks. And its bandage wadding became the first disposable feminine-hygiene product.
Gillette struck a deal with the US army that saw every Europe-bound soldier given a safety razor.
It almost beggars belief that something as horrific as the Great War should have helped shape modern advertising: powerful ads from companies building emotional bonds with consumers.
The conflict also created an environment that allowed new products to evolve, market sectors to be created and the establishment of global brands, some of which thrive to this day.
At the turn of the 20th century, Britain was flooded with mass-produced, affordable consumer goods. The advertising and marketing historian David Clampin says it was the demand for these products that aided the rise of marketing and advertising that exploited emotion. So it was logical that such psychological techniques should ride the patriotic tide after war broke out.
Companies were helped by a huge surge in newspaper readership as people clamoured for information from the front – turning themselves into potential customers as they did so.
Commercial advertising at the time reflected the prevailing public mood by reinforcing government propaganda and demonising the enemy. A Gillette ad celebrated the "clean fighters" of the Allied forces "fighting for clean ideals". Another, for Greys cigarettes, underpinned the recruitment effort by presenting war as a romantic adventure and featuring the famous "stirrup charge" by the Scots Greys and Highlanders at St Quentin in 1914.
Clampin says: "An all-pervasive propaganda message could reach out to ordinary people and, at the same time, nurture a healthy profit for the companies concerned."
This article was first published on campaignlive.co.uk
comments powered by

Disqus
---