---
Additional Information
---
Content
Five trends driving the Cloak app and anti-social marketing
The anti-social app Cloak attracted a wave of media attention when it made its debut in the App Store last week. The app, which enables consumers to avoid friends they don't want to see using Instagram and Foursquare data, has attracted more than 100,000 downloads.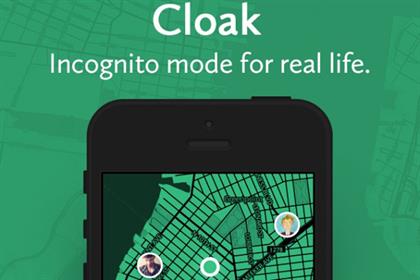 Cloak: enables people to avoid their contacts
But beyond the media hubbub, there are a few interesting trends that the popularity of Cloak demonstrates:
1. The power of data utilisation for anti-social means
Consumers have become well aware that their information online is being used for commercial gain. Well-publicised data breaches such as Morrisons' payroll data theft and Edward Snowden's NSA's leaks mean they are also increasingly mistrusting of the security measures that have been put in place to store data.
What there is not yet widespread awareness of – as highlighted by Cloak – is the way in which their public data can be utilised against them. Many consumers would probably be horrified if they knew that some of their so-called 'friends' were actively trying to avoid them.
2. The Facebook fallout
The growth of Cloak shows in many respects the fact that individuals are still likely to be friends with people that they don't want to communicate with. This is a clear sign of the growing lack of specificity of Facebook.
Being a catch-all, Facebook doesn't seem to really address the needs of any demographic

.
Being a catch-all, Facebook doesn't seem to really address the needs of any demographic, which has led users to utilise other possibilities where the trade-off between commercialisation and functionality isn't quite so great.
In fact, the demographic group that Facebook was so famously developed for is increasingly selecting dedicated social networks to enable them to have a more personalised conversation in a walled garden type situation rather than one where their parents or 'social stalkers' can access.
This is particularly prevalent in the music industry for acts like Jessie J, John Newman and The Wanted which have created their own social networks on their dedicated websites. These enable fans to receive a much more personalised experience and one that only other fans are also party to.
3. 'Appified' living
The trend for apps such as Cloak also plays into a greater theme about how the 'appification' of society is enabling developers to provide for increasingly specific user experiences.
Take Twitter users. They are beginning to understand that the number of followers can reach a saturation point after which the noise from too many feeds becomes dialled up, making it difficult to pick out the relevant and interesting information.
Path, for example, is an app that analyses the number of relationships that people can logistically have – suggesting that only five best friends, fifty good friends and one hundred and fifty friends in total is optimal.
4. Secretly social
As well as thinking more about the relationships they keep, consumers are now beginning to hit back at the always-on and always-connected environment that they find themselves in.
Over the next few years a number of additional apps will challenge Facebook and Twitter by providing experiences that are both enriched yet not so open

.
Social media developers have moved from a rather twee position of trying to connect people in as much detail as possible to a more focused situation where being social is important but the way in which information shared is just as well considered.
Consumers don't want everyone to know what they are doing. This is not about being anti-social; it is more about being in control of what is being sent with an understanding of who is party to the conversation. Examples of this are the growing usage of Snapchat (which deletes content automatically once it has been seen), Whisper and Secret (which enable you to share thoughts freely and anonymously).
5. Anti-marketing made possible
The demand for apps like Cloak is based on new behavioural desires but it also doesn't bode well for brand marketers as it is only a matter of time before apps may be able to remove exposure to key brands.
It is a given that some people love McDonald's or Starbucks, but at the same time, there are people that may want to select a route that doesn't involve passing one. There is the opportunity to cater for a significant proportion of people that have an eagerness to explore local experiences over chain stores that are lacking in character and individuality.
So, what next? The interest in Cloak is clearly not an isolated anomaly. Over the next few years a number of additional apps will challenge Facebook and Twitter by providing experiences that are both enriched yet not so open. It is not necessarily about being anti-social. It is just more about empowering consumers to control the amount of information that they share online.
This article was first published on marketingmagazine.co.uk
comments powered by

Disqus
---