---
Additional Information
---
Content
One client willing to take creative risks
Kerry Foods' April Redmond was happy to gamble on Hank Marvin - even if she didn't get it at first, John Tylee writes.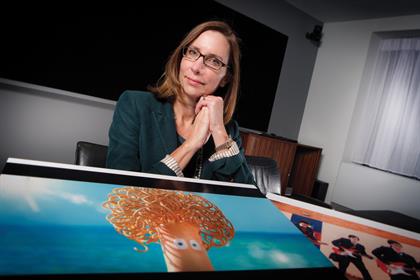 The Redmond lowdown
Set in stone
Born near Boston into a blue-collar family, Redmond claims to have inherited a strong work ethic from her father, a foreman for a large granite-quarrying conglomerate. "He never had a sick day in more than 40 years," she says.

Not in the script
She was the first member of her family to go to university, studying mass communication and journalism, but had second thoughts about trying for a job in broadcasting: "I didn't want to be an 'autocutie'."

Creaming it
Instead, she became a marketer at a Californian company making tanning products. "I came up with the first $30 bottle of suntan cream. Women believe this stuff only works if it costs a lot," she says.
Since then, her career has spanned spells as a marketing consultant and senior marketing executive for Diageo in Dublin – she's married to an Irishman – and for Coca-Cola in both Ireland and the US.
She joined Kerry Foods – "the company is a marketer's dream" – as its regional marketing director for Ireland in October 2010.
What kind of bemused expression must have spread across the boat race of April Redmond – born almost 3,300 miles from the sound of Bow Bells – when her agency presented the latest TV campaign for her approval.

Exactly what was the point of all those bespectacled guitar-wielding kids pretending to be Hank Marvin? And who the heck was Hank Marvin, anyway? "I just didn't get it," the Kerry Foods chief marketing officer confesses.

Was this a campaign that – to use the cockney rhyming slang with which the US-born Redmond was totally unfamiliar – was set to go horribly Pete Tong? And was she about to risk a right old bull and cow with her Saatchi & Saatchi account team, convinced they'd nailed the brief for Mattessons Fridge Raiders, by declaring their work brown bread?

Redmond, though, has a reputation as an instinctive marketer. "An informed risk-taker" is her self-description. "I never want to get out of bed in the morning knowing all I am going to do that day is play it safe," she says. "I won't take risks for the sake of it – but I do want brilliant creative work."

Only when it was explained to her that Hank Marvin was rhyming slang for "starving" did Redmond begin to "get it" and to be convinced it was in line with her perpetual demand that, if the strategy is sound, the right creative work will naturally follow.

Using the line "For when you're Hank Marvin", the campaign has launched an initiative to make Fridge Raiders, a meat product, a more potent competitor to crisps as a snack, particularly among teenagers fresh home from school, by persuading mums to put them in the fridge.

And while the Shadows' lead guitarist wasn't exactly a household name to Redmond, she could see the rightness of associating him with the advertising. "We'd had discussions with the agency about what we were trying to achieve and how we could achieve cut-through with a relatively small spend," she explains. "The Shadows take mums back to a time in their lives when they felt good. I couldn't understand it all at first but, in the end, I could see the creative idea."

It's indicative of the autonomy that Kerry Foods has given her – a sharp contrast to the multi-tiered approval system within which she had to work during six years as a senior marketer at Coca-Cola, she claims – that she felt empowered to go with her instincts.
Two years into her job as the company's marketing chief, Redmond says she never fails to be impressed by its progress from an operation that grew out of a €1 million dairy processing facility set up in Listowel, County Kerry, in 1972 into a multinational food company generating revenues of more than £5 billion.

For her, the challenge has been to further progress Kerry Foods' evolution from a predominately sales-led organisation into one much more heavily focused on consumer marketing.

That has meant concentrating a £20 million-plus marketing spend on a small number of brands with the best potential for profitability and growth.

In the UK, those are Mattessons, Wall's sausages and Richmond – all run out of the Charlotte Street agency – and Cheestrings, handled by its sister shop Fallon.
It helps that Redmond enjoys the confidence of Flor Healy, the Kerry Foods chief executive. "He trusts me and gives me more autonomy than I could have expected in many other companies," she contends. "It's a place where you really can leave a fingerprint."

Not that there aren't potential threats to how the company is perceived by consumers, especially given the area in which it operates.

One was last year's horsemeat scandal from which Kerry Foods seems to have emerged untainted. "Our products may be more expensive than others but we have no horsemeat in our system," Redmond points out.

Another is the child obesity issue, which means that products such as Cheestrings are under relentless scrutiny. Redmond insists the company has a firm policy on marketing to children, with mothers as the primary target. "Cheestrings is 100 per cent cheese and rich in calcium, which is a natural health benefit to kids," she adds.


Whether this policy held true for the second stage of the Fridge Raiders campaign (pictured above), an online competition for teenagers to design a hands-free device enabling them to eat while playing computer games, may be a matter of some contention.

It has certainly done no harm to what has been a burgeoning relationship between Kerry Foods and Saatchis, which won the Mattessons account in January to complement its existing Wall's and Richmond assignments. "I feel I'm not just a client but part of the family," she says. Would you Adam and Eve it!
This article was first published on campaignlive.co.uk
comments powered by

Disqus
---