---
Additional Information
---
Content
A view from the bottom
It's Monday morning and, after an extended Christmas break in the US, I'm still struggling with long nights and almost nonexistent mornings - I heavily regret mocking the gods of jetlag! Despite the tiredness, it's the first day back and I wake up full of beans and head for our offices at Somerset House.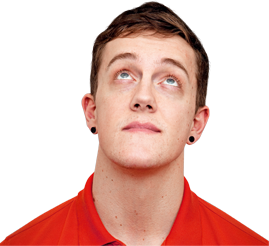 I've never worked at such an amazing location. Every time I walk through the arches, I feel as though I'm part of the royal family. One of these days…
A few of the team are already in and the music is pumping around the office – it feels good to be back!
After a quick breakfast, first on the agenda is our all-company meeting hosted by Jack Waters, king of organisation. Everyone packs into the room to hear what work is in the building this week. It's clear that, although it's the first week back, it will be as fast-paced as ever. Top of the list is our Scottish Widows campaign out next month, as well as a heap of other projects rolling over from 2013.
A quick trip to Espresso Island and I settle down at my desk to start contacting musicians to chat about upcoming experiential activity for one of our clients. Lunchtime rolls around and, following on from my exploration of everything pancake-related in America over the holidays, it's plain rice and chicken for me – the joy. A mixture of music research, e-mails and location scouting with Google Street View, and day one is over. I head for the gym to burn some carbs.

Tuesday appears and I'm back into my regular routine. I grab a quick bite before narrowing down our musical selections with the accounts team – I have never felt so much like Simon Cowell! At 4pm, I receive the news that I will be helping out on a poster campaign for Kettle Chips. Although it will majorly hinder my no-carbs rule, I couldn't be happier. I love the work we've done for them so far, so I can't wait to get stuck in.

The next two days become a blur of music as I continue to make arrangements for the experiential project. An influx of New Year photography portfolios have built up in my inbox, so I dedicate Thursday afternoon to looking through them, taking notes and booking meetings with the agencies. This leaves me happy and inspired.

Before I know it, it's Friday. It's 101's third birthday today and, as a treat, the partners take us all out for a rather spiffing lunch at Wagamama. I go for the squid, my new lunchtime addiction – I highly recommend. We head back to the office and are ushered into the sofa room, where the new Innocent long-form film is revealed to us ahead of it going live online next week. I liked watching this project move through the office last year, and always get excited when work goes live – this is no exception.

The afternoon is finished off with the biggest birthday cake I've ever seen. I'm called on to cut the cake, giving out gigantic portions. I leave the entire office in a state of sugary bliss.

Ben Waters is a production assistant at 101
This article was first published on campaignlive.co.uk
comments powered by

Disqus
---