---
Additional Information
---
Content
PETA projection slams zoos following killing of Marius the giraffe
PETA Germany has projected the message "Zoos are animal prisons: you paid the ticket, Marius paid with his life" on the entrance of Copenhagen Zoo, which put down a giraffe on Sunday despite protests.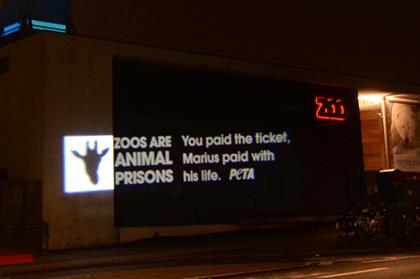 PETA: Responding to the death of Marius
The zoo put down the one-and-a-half-year-old animal because its genes were too similar to other captive giraffes, despite an online petition against the move attracting 27,000 signatures.
"Marius' death should be a wake-up call for anyone who still harbours the illusion that zoos serve any purpose beyond incarcerating intelligent animals for profit," said PETA UK associate director Mimi Bekhechi.
Meanwhile, Copenhagen Zoo's scientific director, Bengt Holst, told Danish TV2 that "the reactions don't change our attitude to what we do" to prevent inbreeding.
He added the public dissection of the quadruped gave the many children who were in the crowd a "huge understanding of the anatomy of a giraffe".
This article was first published on prweek.com
---