---
Additional Information
---
Content
Scene & Erred: Beware the amorous penguins, Finn Partners spares no expense, stiff drinks all round
Little realising she was stepping into a hotbed of hormones while on a recent foray to the Falklands, Pagefield's Florence Quirici made the rookie error of wearing black and white at the height of penguin mating season.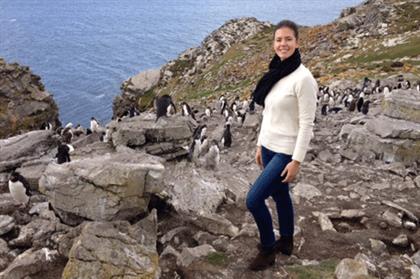 Pick up a penguin: whatever you do, don't make eye contact
Just take the scarf off calmly and back away very, very slowly, Florence...
No expense was spared as Finn Partners put on the kind of celebrations to mark its first year in the UK that would put the egomaniacal dictator of a military state to shame. Just look at the use of colour ink right there. Apparently it also treated 50 folk to a meal at some fancy Spanish restaurant, but you wonder if it was all a bit of a let down after such extravagance...
Continuing on its mission to PR every cool food and drink joint in London, W got stuck in with the launch of cocktail bar The Whip. Here the team looks for the strongest thing on the menu after hearing agency supremo Warren Johnson's next plan – an ironic revamp of Wimpy. (NB: In the interests of not being sued, S&E would like to state that this may not actually be the case. That said, it reckons the hipsters would descend on the place like a pack of wild hyenas if it were to happen and thus claims intellectual property over the idea. You have been warned.)
This article was first published on prweek.com
---