---
Additional Information
---
Content
Comet name to return to the high street
Clive Coombes, an entrepreneur who tried to buy Comet after its administration, is planning to launch an 80-store electrical goods chain on the high street called Meridian Comet.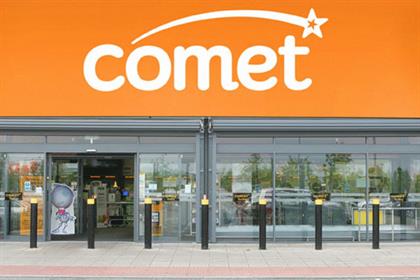 Comet: plots return to the high street
In a blog post Coombes slams Deloitte's handling of the administration and claims the liquidators "were only interested in the money".
Coombes said: "They were looking to raise millions of pounds from selling the brand name and all that went with it needless to say that they have failed in doing so rendering what they have now completely worthless."
Meridian Comet has been formed by Coombes by the merging of two newly created companies called Meridian Wholesale and Comet Electrical.
Coombes claims the first store will open this Autumn and it will take two years to roll out an 80 store group with the stores located in the south, south-west and Midlands.
Once the target 80 stores are reached the group will be floated on the AIM stock exchange, claimed Coombes in a sales pitch to investors.
Coombes said he is launching the venture to take advantage of a white goods market worth in excess of £3.8bn.
He explained: "It doesn't take a genius to realise that with the original Comet removed from our high street it leaves a massive opportunity run the old fashioned way that people yearn for and with prices that cant be matched it won't take long to grow the new Comet and surpass the old".
The entrepreneur has launched a website for the new venture featuring the Meridian Comet logo and has embedded a YouTube clip that pays homage to the high street.

The film was created by Bertie Gilbert, a teenage YouTube user with over 275, 000 subscribers.
This article was first published on marketingmagazine.co.uk
comments powered by

Disqus
---