---
Additional Information
---
Content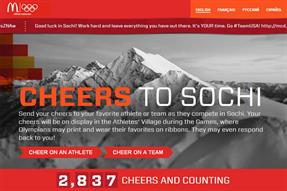 Scott Wooledge, an LGBT activist, has launched a parody version of McDonald's Cheers to Sochi website in frustration of the Olympic sponsors not condemning Russia's anti-gay laws.
More
Related stories
Latest news
Robin Williams, the comic actor who took his own life in August, was the most popular Google search in 2014, according to data released by the search engine.
What started off as the year of the Sochi Winter Olympics, an important year for Russia, is closing as the year of uncertainty about the future. No expert can accurately predict the consequences of rivalry between Russia and its largest foreign inves...

Following the announcement that Prince William and Kate are expecting their second child, Campaign takes a look at the most-shared baby ads of all time.

Sponsors need to move on from silent acquiescence and become more willing to publicly talk about the downsides of the events they support, writes Sarah Walker, global director of Millward Brown's Neuromarketing practice.

UK mobile adspend is set to double this year to £2 billion and will represent 39.1 per cent of total adspend by 2018, according to research from eMarketer.

Jurors share their observations and creative highlights from the judging room at this year's Cannes Lions festival.

John Lewis and Honda have made it onto the top 10 most-viewed ads from the hundreds of entries shortlisted in the Film Lion category at Cannes.
How can brands overcome problems on the ground in Brazil and a dearth of public optimism about the England team's prospects to reap the rewards of this FIFA World Cup, asks Alex Brownsell
As thoughts turn to Brazil and this summer's Fifa World Cup, Twitter has produced five key points for brands that want to get the most out of this year's sporting extravaganza.
World Cup 2014 draws closer and non-affiliated brands stand to gain most, writes Trevor Cairns, chief executive of LOVE and a former Nike and Umbro CMO.
Martin Sorrell, the chief executive of WPP, has spoken about the current tensions between Russia and Ukraine, describing the crisis as "a black swan" that no-one saw coming.
Guinness' condemnation of the New York St Patrick's Day parade organisers and their homophobic behaviour was about staying true to its brand values - which is worth more than the sponsorship itself, writes John Atmore, planning director at Arc.
---