---
Additional Information
---
Content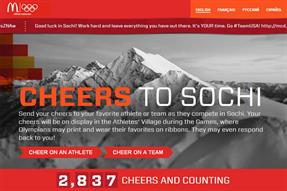 Scott Wooledge, an LGBT activist, has launched a parody version of McDonald's Cheers to Sochi website in frustration of the Olympic sponsors not condemning Russia's anti-gay laws.
More
Related stories
Latest news
Guinness' condemnation of the New York St Patrick's Day parade organisers and their homophobic behaviour was about staying true to its brand values - which is worth more than the sponsorship itself, writes John Atmore, planning director at Arc.

The latest viral ads from Samsung, Save the Children and Chanel

Creativity lies at the core of humanity, yet even the most confident creative can struggle with self-doubt. Conquering this is vital if we are to help change the world for the better, writes Southbank Centre artistic director Jude Kelly OBE.
Over the past couple of weeks, the adrenaline-fuelled Winter Games in Sochi has captured the world's attention. We've seen athletes jump impossible heights on skis, hurtle at great speed on the skeleton and we even got a hit of nostalgia from 1990s f...
Amscreen, the digital outdoor specialist, has launched Event, described as a more flexible, "event-based" solution for tactical, content-led ad campaigns.

Yesterday I found myself posting the words #lovecurling on a social network. It poses an interesting question. Was it a momentary aberration or do I actually, in fact, love curling?
The vast majority of UK social media buzz surrounding Sochi 2014 Winter Olympics sponsors Coca-Cola, Visa and McDonald's has been critical of their failure to address LGBT issues, according to research by We Are Social.
More brands are looking beyond the old marketing model to engage sceptical modern consumers, David Benady writes.
"To the right... It's bobsled time! To the left... It's bobsled time" goes a reggae track accompanying an 8-bit video short celebrating the Jamaican bobsleigh team at the Sochi Winter Olympics.

An ad from the Canadian Institute for Diversity and Inclusion is the most-shared ad in the week that the Winter Olympic Games launched in Sochi.

"I bet Kevin Pietersen can't believe he's been kicked out of Kevin Pietersen's All Star XI." - @mattwhatsit on Twitter

Did you watch Channel 4 s The Jump ? No, me neither. But, from what I gather, the most interesting part about it was the insight into how "me too" commissioning (something that is prevalent at the moment) works. You can almost picture the scenes a...
---