---
Additional Information
---
Content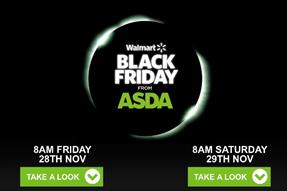 Asda is looking to capitalise on the increasing hype surrounding 'Black Friday', by extending the sales event into the weekend and offering deals on 700,000 items, spanning toys, TVs, tablets and mobile phones.
More
Related stories
Breaking news

Think of something and put the word 'smart' in front of it. It's the new craze. We used to put an 'i' in front of things and before that an 'e' but not anymore, now it's all about 'smart' things. All the brands are doing it. Smart diapers, smart mete...
Building on the trend for creating branded ads within the Captcha sign-up, Nestle is the first brand to use a new format that adds video into the experience.

More shoppers than ever are choosing own-brands from supermarket shelves over name brands, with own-labels accounting for 54% of UK supermarket sales, according to research from Nielsen.
Domino's Pizza, the delivery brand, has taken a fairground approach in a TV ad to launch its hot doughnuts.

Virgin founder Richard Branson has welcomed the prospect of rule changes that could make life easier for 'sharing economy' businesses such as Airbnb, Uber and Etsy in the UK.
Pinterest is more important to retailers than distant innovations such as the Oculus Rift, according to Asos chairman Brian McBride.

Sainsbury's WWI-themed Christmas ad has avoided a ban, despite 727 complaints from members of the public who found the campaign 'distasteful'.

ITV has promoted Kelly Williams, the group commercial sales director, to managing director of commercial, as Fru Hazlitt steps down.

The Advertising Standards Authority has decided not to investigate the Sainsbury's Christmas ad despite 727 complaints that its depiction of the First World War was distasteful.
The "standard default mode" of the industry is defensive but marketers should be "viciously aggressive" in asserting their value, and should also tap into the realms of "psychologically driven solutions" to grow brands, Rory Sutherland has argued.
United Biscuits boss Martin Glenn said there is a "turning tide" in CEO recruitment with head-hunters looking for candidates with marketing experience, but he warned marketers that their "glory boy" status could hold them back.
Account reviews
Account wins
Latest campaigns
---