---
Additional Information
---
Content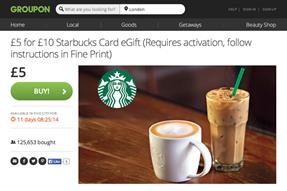 As Groupon seeks to reinvent itself as an online marketplace, Nicola Kemp asks if consumers are suffering from discount fatigue.
More
Related stories
Breaking news
Former Microsoft boss Steve Ballmer has quit the board less than half a year after leaving the chief executive post, ending his 34-year tenure at the technology group.
House of Fraser is celebrating the "wedding season" with a short humorous film celebrating gay marriage.

US shoppers will soon be able to enjoy McDonald's coffee outside the fast-food chain's outlets, following a deal with Kraft that will allow the McCafe brand to be sold in grocery stores.

Lake Capital, the private equity company set to buy Engine, has refused to improve its offer to ex-employee shareholders.
'Celebrity Big Brother's' return to Channel 5 delivered a peak audience of 2.9 million viewers last night, according to unofficial overnight figures.

Axe, the Unilever body spray brand known as Lynx in the UK, has released two films encouraging men to embrace the weekdays that everyone else hates.
The Royal Bank of Scotland is dropping the RBS branding from signage at its branches, in an attempt to reconnect the brand to its Scottish heritage.
Vodafone has ranked last in a report examining the performance of the UK's mobile networks, while EE has claimed the top spot.

Birds Eye has revamped its on-pack Captain Birds Eye character as part of an overhaul of its brand identity, including a revised version of its logo that has moved from the side to the centre of its packaging.

Untrustworthy restaurant reviews set an entrepreneur on a mission to produce an app which pulls data from more reliable sources to find out what people really think. Madeline Parra, CEO and co-founder of Twizoo, tells Marketing about what made her ta...

Canadian coffee drinkers were shocked to find their local branch of Tim Hortons coffee shop completely blacked out, with everything from the exterior to the cars parked outside covered in black material - all part of a stunt to promote the brand's ne...
Account reviews
Account wins
Latest campaigns
---