---
Additional Information
---
Content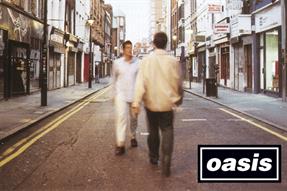 Oasis' label, Big Brother Recordings, has breathed new life into the band's best-selling album, (What's the Story) Morning Glory, by adding augmented reality content.
More
Related stories
Breaking news
This week, Simon Kilby, head of marketplace, Bauer Media, readies the national launch of Magic on DAB and celebrates future change at Bauer Radio's annual conference, with dire consequences the next day.

Ballantine's Scotch whisky has released the latest episode in its series "stay true stories" with musician and DJ, Black Coffee.

Google is endeavouring to improve its mobile platforms for marketers with the launch of four mobile display formats, which will be rolled out in markets including the UK in the next few months.

Piers Morgan, formerly of CNN and Trinity Mirror, has been appointed editor-at-large of MailOnline's US operation.
Executives working in large organisations must continually ask how they can "break themselves" in order to emulate the fast growth of startups, according to Mondelez International's Bonin Bough.

Mail Newspapers, home to the Daily Mail and MailOnline, is launching an online membership portal called MyMail.
Mindshare UK has promoted Sarah Sutton and Chris Cardew to the role of joint heads of strategy.

PETA, the animal rights organisation, has launched a website in the style of Fortnum & Mason branding, with the words "Force-fed & Murdered" in a protest against the retailer's sale of foie gras.

Holler has landed Royal Caribbean's social media account following a competitive pitch.

PayPal is parting ways with eBay following a decision by the auction site to allow the online payment business to compete separately.

Royal London, the mutual life and pensions company, is launching a TV spot featuring time traveller, Roy.
Account reviews
Account wins
Latest campaigns
---