---
Additional Information
---
Content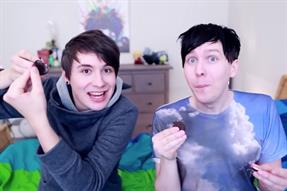 Oreo ads starring YouTubers including Dan and Phil have been banned by the Advertising Standards Authority because the ads did not clearly state the work was part of a marketing campaign for the Mondelez confectionery brand.
More
Related stories
Breaking news

The cult of the Christmas jumper has inspired Costa to commission an illustrated children's book called 'The Best Christmas Jumper', with £1.17 of the £1.50 price tag to be donated to charity Save the Children.

Asda is looking to capitalise on the increasing hype surrounding 'Black Friday', by extending the sales event into the weekend and offering deals on 700,000 items, spanning toys, TVs, tablets and mobile phones.

Easyjet boss Carolyn McCall has credited the airline's turnaround to a return to its core values, namely making it easy and cheap for customers to travel.

Brands that behave in an interconnected way will stand a better chance of success
Virgin and Stagecoach have won a bid to run the re-privatised East Coast mainline route from London to Edinburgh, growing the Virgin brand's share of Britain's rail network.

Hive, the British Gas service that allows users to control their heating through online tools, has released a content brief to agencies.
Cake, the digital, PR and content agency owned by Havas, has promoted Adrian Pettett, the co-founder and chief operating officer, to chief executive.
Ray Morgan, who has died aged 82, may have been credited with killing off the full-service agency. But he was a most unlikely assassin.

Grey London has appointed the Bartle Bogle Hegarty producer Glenn Paton to be its first head of film.
Gravity Road, the agency founded by Mark Boyd and Mark Eaves, has hired Katie Lee, the managing director of Leo Burnett London, as its first managing director.
The advertising industry has seen a steady increase in the number of women in senior positions and people of ethnic minorities, according to the latest IPA Agency Census.
Account reviews
Account wins
Latest campaigns
---