---
Additional Information
---
Content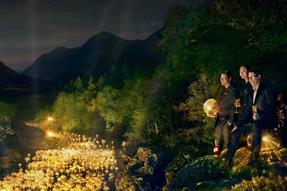 Johnnie Walker has launched a global "brand character" campaign to promote four of the brand's luxury whiskies.
More
Related stories
Breaking news

Sarah Carter and Toby Harrison, strategy director and planning partner respectively at Adam & Eve/DDB, reflect on a Grand Prix-winning night at the IPA Effectiveness Awards on Monday.

It's 'easy1peasy' for Londoners to make a 1p donation to charity every time they swipe their contactless debit or credit card on London Transport, according to new micro donation scheme Penny for London.

Channel 4 has expanded its interactive ad formats to tablet and mobile devices.

Samaritans has defended its Radar web app for Twitter, after users complained that having their tweets monitored was an invasion of privacy.
Mark Zuckerberg, the chief executive officer of Facebook, has said Oculus Rift will need to sell between 50 million and 100 million units before the company will consider it a fully-fledged business.

Darren Carter, a long-serving marketer at Sony Computer Entertainment Europe (SCEE), is to stand down after 18 years at the company.
Microsoft has entered the burgeoning wearables and fitness market with the launch of Microsoft Band, a $199 (£124) wristband that tracks users' exercise and sleep patterns, pays for their coffee and alerts them to emails.
The "unique character" of four luxury Johnnie Walker whiskies is brought to life in a global ad push by the Diageo-owned brand.

The Advertising Standards Authority's decisions on whether or not to ban gambling ads were in line with public opinion, the watchdog has said, but consumer concerns persist around likes of "free bet" promotions.
Ford Motor Company is releasing an action-packed pan-European TV ad created by 'The Fast and the Furious' director Rob Cohen, with the company's new Mondeo's LED headlights guiding a plane to land on a darkened airstrip.
Diageo is to resurrect Pimm's No 6 Vodka Cup after delisting the drink, following a vociferous campaign by consumers to have the drink reinstated.
Account reviews
Account wins
Latest campaigns
---