---
Additional Information
---
Content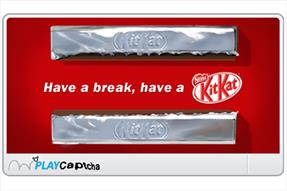 KitKat has become the first confectionery brand to embrace an online interactive ad format that gives users a break from frustrating Captcha forms.
More
Related stories
Breaking news

Danielle Crook, the Starbucks vice-president of marketing, category and brand integration, EMEA, is leaving the company to relocate to the United States.

Social video content created by Samsung attracted more shares this year than any other advertiser, according to new data released today by Unruly.

AKQA, Rainey Kelly Campbell Roalfe/Y&R and Wasserman are the agencies behind Vodafone's global "firsts" brand strategy, which was announced yesterday.

Ogilvy & Mather London has appointed André Laurentino, currently TBWA/London's global creative director for McDonald's, as its global executive creative director for Unilever, including Dove and Hellmann's.

Children aged from four to 15 years old viewed 596 million payday loan ads in 2012, according to new research from Ofcom.
Marc Nohr, chief executive of Kitcatt Nohr Digitas, is leaving the agency he co-founded 12 years ago to take up a senior marketing role at global workplace provider Regus.

The plight of homeless people this Christmas has been highlighted through 'infectious' wrapping paper that is designed to look like snowflakes.

Campaign's Agencies of the Year will be revealed in its 2013 Annual, which will be published in print on Thursday 12 December and on the Campaign iPad app tomorrow night.
"It was pretty tough narrowing it down to one campaign - both the Honda and the Jack & Jones series were definitely in my top three. But, in the end, I went with the Mercedes-Benz 'Magic body control' TV commercial.
A padlock that reads "Will you marry me?", a plate of snails, a woman swimming in front of the Eiffel tower, all taken from real experiences.
Will Harris, the former Nokia, O2 and Tory party marketer, is joining PR agency Mission in a bid to marry up the "rigour of advertising with the responsiveness of PR".
Account reviews
Account wins
Latest campaigns
---