---
Additional Information
---
Content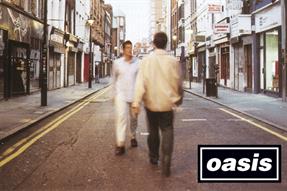 Oasis' label, Big Brother Recordings, has breathed new life into the band's best-selling album, (What's the Story) Morning Glory, by adding augmented reality content.
More
Related stories
Breaking news
Mindshare UK has promoted Sarah Sutton and Chris Cardew to the role of joint heads of strategy.

Holler has landed Royal Caribbean's social media account following a competitive pitch.

PayPal is parting ways with eBay following a decision by the auction site to allow the online payment business to compete separately.

Royal London, the mutual life and pensions company, is launching a TV spot featuring time traveller, Roy.
Razorfish, the Publicis Groupe-owned digital agency, has hired James Buchanan to the newly-created role of strategy director.
Microsoft has unveiled the 'Windows 10' platform, which will replace its Windows 8 system, completely skipping Windows 9 in a bid to show how it "represents the first step of a whole new generation of Windows".

Mike Coupe, Sainsbury's chief executive officer, has defended the supermarket's "50p challenge" blunder, calling it a simple mistake, as the retailer reports sales have dropped over the quarter.

NEW YORK - Peter Himmelman, the singing chief executive officer of Big Muse, has advised aspiring "advertising rock stars" to separate creative tension from destructive worry.

I am eight months in to my China journey, and the differences have been more amazing and challenging than I could have ever imagined experiencing. Some things in media are the same everywhere, though, and recent UK figures confirming the shift away f...

NEW YORK -- At Advertising Week, Electronic Arts' Dana Marineau said that sometimes marketers have to throw a Hail Mary pass to keep brands relevant.
NEW YORK - Executives working in large organizations must continually ask how they can "break themselves", to emulate the fast growth of start-ups, according to Mondelez International's Bonin Bough.
Account reviews
Account wins
Latest campaigns
---