---
Additional Information
---
Content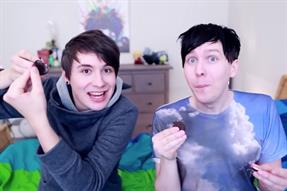 Oreo ads starring YouTubers including Dan and Phil have been banned by the Advertising Standards Authority because the ads did not clearly state the work was part of a marketing campaign for the Mondelez confectionery brand.
More
Related stories
Breaking news
Twitter has launched coupon service 'Twitter Offers' as a way for high street retailers to link Twitter activity to their physical stores.
Clare Hill, managing director of the Content Marketing Association, prepares for the body's International Summit and awards, and has a pair of killer heels to break in.
Asos chairman Brian McBride has admitted that the company took on "too much too soon" with its launch in China.
Santa is caught short while delivering presents to a home after a batch of milk and cookies doesn't agree with him, only just making it to the toilet in time to noisily void his bowels, in a scatological video ad for odour-killing spray Poo-Pourri.
Marketing, with the help of social media experts Unruly, showcases three must-watch branded Vines, featuring dancing bears, magic cola and seizure-inducing stop motion.

Rapp has promoted Sid Gordon and Adam Rolfe to creative directors to expand its creative leadership team.
Speaking today at the Marketing Society's annual conference, Marc Mathieu, global SVP marketing, Unilever the company had been developing ways to harness the innovation of tech start-ups through the company's 'Unilever Foundry'.

In our latest 'Bums on Seats' video offering advice from the UK's leading marketers, we ask: Is the agency pitch good or evil?
Brands need to tap into the entrepreneurial spirit and vibrancy of start-ups to succeed in the digital economy, said Simon Devonshire, director of Wayra Europe, Telefonica's tech start-up arm.

Pizza Express, the 430-strong restaurant chain, has appointed Rufus Leonard to create a digital strategy, following a competitive pitch.
Kuoni Travel UK has appointed Steven Seddon to a newly created head of marketing and digital role.
Account reviews
Account wins
Latest campaigns
---