---
Additional Information
---
Content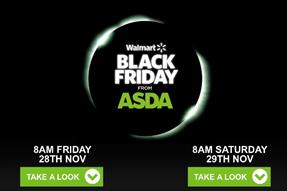 Asda is looking to capitalise on the increasing hype surrounding 'Black Friday', by extending the sales event into the weekend and offering deals on 700,000 items, spanning toys, TVs, tablets and mobile phones.
More
Related stories
Breaking news
Pinterest is more important to retailers than distant innovations such as the Oculus Rift, according to Asos chairman Brian McBride.

Sainsbury's WWI-themed Christmas ad has avoided a ban, despite 727 complaints from members of the public who found the campaign 'distasteful'.

ITV has promoted Kelly Williams, the group commercial sales director, to managing director of commercial, as Fru Hazlitt steps down.

The Advertising Standards Authority has decided not to investigate the Sainsbury's Christmas ad despite 727 complaints that its depiction of the First World War was distasteful.
The "standard default mode" of the industry is defensive but marketers should be "viciously aggressive" in asserting their value, and should also tap into the realms of "psychologically driven solutions" to grow brands, Rory Sutherland has argued.
United Biscuits boss Martin Glenn said there is a "turning tide" in CEO recruitment with head-hunters looking for candidates with marketing experience, but he warned marketers that their "glory boy" status could hold them back.
Macmillan Cancer Support, one of the UK's leading and most admired cancer charities, was voted The Marketing Society's Brand of the Year at its annual dinner last night, in association with Marketing and Advertising Week Europe.
"Vouchers! Fucking vouchers," exclaims a woman when her husband gives her a Christmas gift of a stay in a hotel, in a humorous online video ad for boutique hotel service Mr & Mrs Smith.

Telefonica is set to see a strong return on its cash investments into the European arm of Wayra, its start-up accelerator programme, according to Simon Devonshire, the company's director.
Visa has become the latest Fifa partner to speak out against the football body, which is embroiled in a corruption scandal over awarding the 2018 and 2022 World Cups to Russia and Qatar respectively.

The cult of the Christmas jumper has inspired Costa to commission an illustrated children's book called 'The Best Christmas Jumper', with £1.17 of the £1.50 price tag to be donated to charity Save the Children.
Account reviews
Account wins
Latest campaigns
---