---
Additional Information
---
Content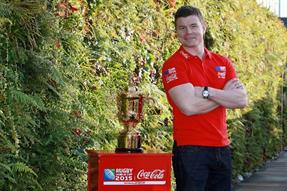 Coca-Cola has confirmed it will be the official sponsors of Rugby World Cup 2015, building on its long standing partnership with the sports event. It will be the soft drink, sports drink and water supplier.
More
Related stories
Breaking news
Multi-platform print-based media brands can play a big part in the media landscape of 2015, says Karl Marsden, managing director of Shortlist Media.
1. John Litster It was with a heavy heart that Litster became the managing director of BSkyB at the start of the year, following the tragic death of Nick Milligan in 2013. To end the year with continued growth of more than 800 million in ad revenu...

Families are marginally better off this year than they were last year and have more disposable income to spend on festive goods, Asda has claimed in its latest income tracker.

It's time for advertising to stop trying to play popular media at its own game and instead look to marry its message with the context, says Alex Smith, planning director, Sense.

Johnnie Walker has appointed Anomaly as its global lead creative agency, ditching Bartle Bogle Hegarty after 15 years.
Weetabix is kicking off a multi-channel campaign in January that aims to get kids "excited" by the breakfast brand.

In our latest 'Bums on Seats' video offering advice from the UK's leading marketers, we speak to senior marketers Mark Cameron (Jaguar Land Rover), Kat Ward-Smith (O2) and Imogen Wilson (Plan UK)
1. Mark Collins Collins remains the industry s most significant media buyer following the collapse of the Publicis/Omnicom merger. The Group M operation that he spearheads still controls at least a third of all the UK s trackable media spend. He st...
Jason Mawer is believed to have left his role as commercial director of Northern & Shell after just three months.
Comparethemarket.com is going to have its own dramatic Christmas Day storyline as one of the meerkats departs the advertiser's mini soap during a special ad to air on ITV.
With this week's news that BT is to buy mobile operator EE from owners Orange and Deutsche Telekom for £12.5bn, and that Telefonica chairman César Alierta flew to the UK to persuade BT to also snap up O2, Marketing takes a look back at the corporate ...
Account reviews
Account wins
Latest campaigns
---