---
Additional Information
---
Content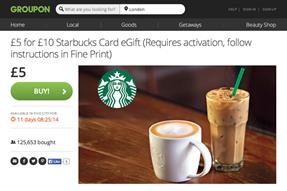 As Groupon seeks to reinvent itself as an online marketplace, Nicola Kemp asks if consumers are suffering from discount fatigue.
More
Related stories
Breaking news
Harris+Hoole, the Tesco-backed upmarket chain of coffee shops that launched in 2012, has announced it is to close a number of unprofitable stores across London.
Terry Badham, the former art director, has passed away aged 84.
A digital rainbow built using 150 Samsung Galaxy Tab S tablets will stand on London's Southbank for 24 hours, making a bright addition to the view over St Paul's Cathedral and the City.
Greenpeace USA has launched a digital video campaign via its YouTube channel to put pressure on digital companies such as Amazon and Twitter to use renewable energy to power their data operations.

It's a funny old time of year at the moment, a period of relative calm in a perpetually over-stimulated industry.
France's beloved chocolate and pastry makers have started a social media campaign to oppose the French government's plans to impose health warnings on cakes and chocolates.

This might be the age of the start-up, but these Johnny-come-latelies could still learn a thing or two from ad agencies, argues Tom Callard, a strategist at Bartle Bogle Hegarty.
Former Microsoft boss Steve Ballmer has quit the board less than half a year after leaving the chief executive post, ending his 34-year tenure at the technology group.

US shoppers will soon be able to enjoy McDonald's coffee outside the fast-food chain's outlets, following a deal with Kraft that will allow the McCafe brand to be sold in grocery stores.
House of Fraser is highlighting the "wedding season" with a short humorous film celebrating gay marriage.

Greggs became victim to a viciously satirical version of its own logo yesterday, when Google searches for the baker displayed a fake tagline that read, "Providing shit to scum for over 70 years".
Account reviews
Account wins
Latest campaigns
---