---
Additional Information
---
Content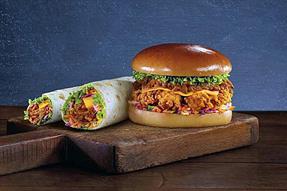 KFC is rolling out the "biggest overhaul" to its menu for two decades today, with the launch of pulled chicken.
More
Related stories
Breaking news

Apple has reportedly signed deals with Visa, MasterCard and AmEx for a mobile payments system that will let users pay for goods with a swipe of their phones.

Marks & Spencer is releasing a TV ad for its food range as part of a dual-pronged autumn campaign that will also push the retailer's clothes.

Tesco Mobile is launching a brand campaign in the UK created by Wieden & Kennedy Amsterdam.
The Royal Air Force has launched a national recruitment campaign that targets both full-time regulars and spare-time reservists for the first time.
General Motors (GM) is reportedly working on cars that can remind drivers to keep their eyes on the road, in a bid to reduce road accidents.
In just a matter of weeks, the shape of Britain could be looking very different. Come the 18 September, our residents of Scotland will either vote to stick with trusty Britannia or opt to go it alone into a brave, new independent world.
Chester Zoo is launching a personalised online campaign to coincide with a BBC TV drama 'Our Zoo', which airs this autumn.

TD Bank's emotive ad and Samsung Galaxy's comical Ice Bucket Challenge ad sit in first and second place in this week's Campaign Viral Chart.
The 11th UK series of 'The X Factor' launched to a peak audience of 10.6 million, the highest for three years, according to unofficial overnight figures.

Sainsbury's has begun selling its Tu clothing range online, as part of plans to transform the fashion sub-brand into a £1bn business.

Dyson is expected to launch its first robotic vacuum cleaner later this week, following the launch of a cryptic YouTube video.
Account reviews
Account wins
Latest campaigns
---