---
Additional Information
---
Content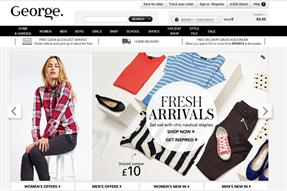 Asda has hooked up with Wired magazine publisher Condé Nast to conduct its first hackathon, with the aim of conceiving an idea for fashion label George that can be developed into a piece of consumer technology.
More
Related stories
Breaking news
A US court has determined that Facebook users own their 'likes', not the pages they are liking.

Omnicom's trading dispute with Channel 5 is expected to drive down the broadcaster's prices by an estimated six per cent year on year, according to an internal Channel 5 document seen by Campaign.

To celebrate the return of Doctor Who, and the arrival of new lead actor Peter Capaldi, the BBC has launched an interactive game allowing users to pilot the Tardis.

As Lake Capital extends the deadline to agree a deal to buy Engine, the Results International partner Jim Houghton looks at the role of private equity in adland.
Instagram has rolled out three tools that will allow brands to monitor their performance on its fledgling ad network.

Harrods, the luxury department store, has appointed TBWA\London as its creative agency.
The latest virals from GoPro, Apple and Nike.
With the ALS Ice Bucket Challenge spanning the world in support of Lou Gehrig's disease, a few agencies have bravely got involved by wetting themselves.

Aga, the British cooker brand indelibly linked with the upper-middle classes and their country homes, has released a campaign for its city oven.

Read the full text of David Abraham's speech, called 'After The Gold Rush: Sustaining creative risk in UK television for the next generation', given at the Edinburgh International Television Festival.
McDonald's is set to launch a music and entertainment offering to customers, as it looks to expand its digital presence.
Account reviews
Account wins
Latest campaigns
---