---
Additional Information
---
Content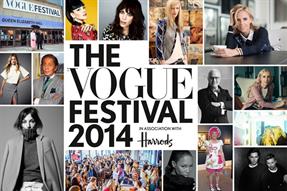 Harrods will target a youth audience for the first time in its history with brand activity that will kick off with the headline sponsorship of this month's Vogue Festival.
More
Related stories
Breaking news

Instagram has signed its first major ad deal with a media agency group, a commitment from Omnicom to spend up to $40 million (£24.1 million) a year in the US.
Marking 25 years since Tim Berners-Lee created the World Wide Web and revolutioned communications, Sally Cowdry, marketing and consumer director of Camelot, reflects how the internet shaped her career and that of every marketer.

Leo Burnett, Carat, Ogilvy & Mather and Yahoo executives have emerged among the winners of the 2014 Women of Tomorrow competition, an initiative from the IPA and Campaign to find female industry leaders of the future.
Each day this week, we'll ask a female "master of business" to share the story of her rise to the top. Eleanor Mills, editorial director of The Sunday Times, explains why it is better to judge work on output rather than hours worked, plus rising up t...

ESTV's upcoming London Live has joined television's marketing body Thinkbox ahead of its launch on 31 March.
Men and women dressed as bananas, Tetris pieces, sushi and a washing machine take on the world's leading rugby sevens players in a surreal hip hop-style battle in this HSBC film.

Celebrities including Simon Pegg, Nicole Sherzinger and Dynamo are shown suspended in the air to communicate Oxfam's Lift Lives for Good campaign
Omnicom Media Group has bought Mobile5, the mobile marketing agency with clients such as Samsung, Canon and Trinity Mirror.

VCCP me, VCCP's direct marketing agency, has hired Rapp's Gavin Hilton as its planning partner following Chris Whitson's departure in October 2013.
The first three days of SXSW interactive were packed with high-profile speakers from Google's Eric Schmidt to Hollywood high flyers like Kevin Bacon, with a constant stream of activity running alongside scheduled events such as the Spotify House and ...

Edward Snowden, the National Security Agency whistleblower, has called on the digital and developer communities to protect people's privacy in the absence of government legislation.
Account reviews
Account wins
Latest campaigns
---