---
Additional Information
---
Content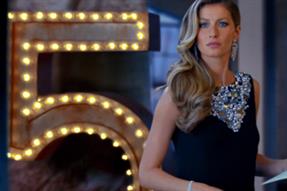 Chanel no 5's epic ad featuring supermodel Gisele Bündchen and directed by Hollywood Baz Lurhman has reached the top spot of this week's Campaign Viral Chart.
More
Related stories
Breaking news
Procter & Gamble has announced plans to offload battery brand Duracell, in what will be the first of up to 100 brands axed from the portfolio as part of its strategy to offload its least profitable brands.
Marketers rejoice - finally here's a CEO who not only 'gets' marketing, but who is so involved in his brand's advertising that he has penned a song, grabbed his 80s synthesiser, set it up in a field and crooned the words "Wow, wow, no cow" to promote...

Johnnie Walker, the Diageo-owned whisky brand, is reviewing its global advertising account.

Andrew Miller, the chief executive of Guardian Media Group, has urged the BBC to allow newspapers access to raw news feeds and to tap into its back catalogue.
The UK's vibrant commercial media sector celebrated the year's best work at the Media Week Awards last night, attended by 1,400 executives from agencies, media owners, advertisers and production companies.

A report by Samsung, 'Future Shoppers', has claimed that retailers need to do more to enhance the in-store experience for younger shoppers to avoid missing out on bricks-and-mortar sales.

Facebook has released an app called Rooms, allowing users to create messaging boards around their interests - but there are no plans to introduce ads.

Lloyds Banking Group is reviewing its media planning and buying accounts for traditional and digital media.
Check One Two, the testicular cancer awareness campaign, is launching a comedy show airing tonight on Channel 4, as part of its commitment to beat cancer.

What appears to be the homepage of an Airbnb-style website, transmutes from a smart room into a grim pastiche bearing an image of a squalid bedsit, in a Barnardo's campaign highlighting the plight of young people coming out of care.

Movember, the men's health charity, has launched a new outdoor campaign that aims to raise awareness of testicular cancer. A billboard featuring testicular cancer survivor Jack Dyson "looking resplendent" with a moustache in the style of a 1970s a...
Account reviews
Account wins
Latest campaigns
---