---
Additional Information
---
Content
OFT threatens Groupola with legal action
Groupola, the group buying site, has been warned by the Office of Fair Trading (OFT) that it could face legal action if it repeats a strategy of heavily promoting discounted items when it has an inadequate supply.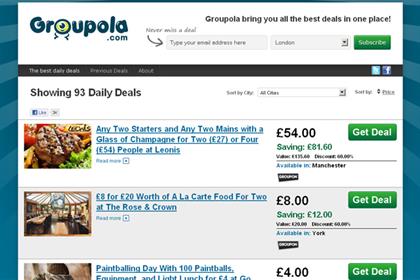 Groupola: OFT criticises offers site
An investigation by the watchdog found Markco Media, which operates the Groupola website, used "bait pricing" to offer iPhone4s at £99 each, and entice consumers to join Groupola and sign up to receive daily email alerts, when it only actually had eight phones to sell.
The promotion of the iPhone4, which can cost as much as £499, included marketing on Facebook and Twitter, which prompted nearly 15,000 people to sign up.
The OFT said: "People were not informed that there were only eight handsets available and so almost everybody attempting to buy an iPhone4 at £99 was left disappointed, after incurring time and effort providing personal details to sing up to Groupola."
The OFT said: "A sales progress bar at one point [during the promotion] indicated over half of the iPhone4s were still available and above this was a caption stating '202 bought'".
The OFT has now made a legally binding ruling in the case and if Groupola repeats the offence it could face High Court action.
Groupola has now signed an undertaking that prevents it from "offering for sale products in circumstances where there is a disproportionately inadequate supply of those products when compared with the scale of advertising and marketing."
The OFT has also prevented the company "making statements (including comments on social networking and blogging websites) without clearly and prominently disclosing when the author is an employee or has another relevant relationship with the company."
Mark Pearson, chairman of Markco Media, said: "We would of course like to apologise to anyone who was disappointed with the promotion that we ran in July 2010. We worked closely with the Office of Fair Trading during their enquiries to ensure that nothing like this happens again. When the issue first arose, nearly 9 months ago, we immediately carried out our own internal investigation as to the cause of the problems and the members of the team responsible for the promotion are no longer with the company."
Markco Media is a web-based marketing and advertising company.
This article was first published on marketingmagazine.co.uk
comments powered by

Disqus
---