---
Additional Information
---
Content
PepsiCo in overhaul of Planet Lunch kids offering
PepsiCo, owner of brands from Tropicana to Walkers, is revamping Planet Lunch, its healthy snack range aimed at children, less than two years after the brand's UK debut.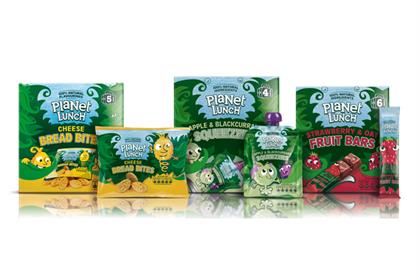 Planet Lunch: first launched in 2009
Packaging for the range, which includes fruit bars, drinks, dips and snacks, has been redesigned by Bloom. New-look products will be available from Sainsbury's, where they had been trialled, along with Boots, Waitrose and Ocado later this month.
The updated visual identity aims to communicate the brand's health and fun aspects 'more overtly' to mothers and children. Packs will feature images of their contents, rather than the cartoon characters that currently appear on the products.
The launch of Planet Lunch in 2009 formed part of PepsiCo's pledge to make itself a 'business whose future profit and growth is driven by healthier products' by 2020.
However, the firm's 'Health Update 2011' confirmed that the range did not meet its target of being 'taken to scale' post-launch, thus failing to meet a company health pledge.
Even so, the report stated that sales of the range rose by 50% in the first half of 2011 and outlined a commitment to expand sales beyond Sainsbury's to other outlets.
Last month, Richard Evans, president of PepsiCo UK and Ireland, sought to dispel notions that raised obesity levels were a problem solely for food and drink companies with the launch of the 'Health Update'.
He highlighted recent drives by PepsiCo to tackle obesity through innovation, which included reducing the level of salt in Walkers Crisps by more than 11%, and said the company was 'doing its bit' for the 27 health commitments made in March 2010.
Evans said the company was delivering on its promise to reshape its portfolio, claiming that 54% of its products had been classed as 'healthier' than they were previously.
PEPSICO UK HEALTH PLEDGES
50% of savoury snacks to be baked, or include positive nutrition, by 2015.
Invest £40m in research and development of foods and drinks with healthier profiles by 2015.
Deliver 1.8bn servings of fruit and vegetables and 1.7bn servings of wholegrain a year by 2012.
65% of carbonated soft-drinks can and bottle sales to be no-sugar by 2015.
Source: PepsiCo
This article was first published on marketingmagazine.co.uk
comments powered by

Disqus
---