---
Additional Information
---
Content
New Covent Garden Food competition hit by complaints
The New Covent Garden Food company has found itself with egg on its face after failing to find a winner to its competition, which promised £500,000 to buy a farm and start a new life.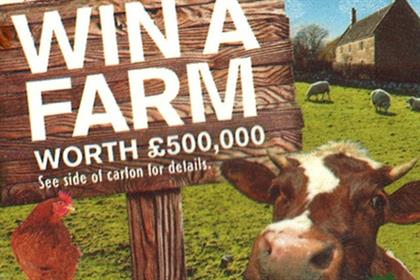 New Covent Garden Food: 'win a farm' competition
The competition attracted 267,000 entrants in pursuit of the life-changing prize.
The problem was that, following the way the competition was run, there was no winner.
Now the fresh soup producer has provoked a furious backlash from those who entered the competition and didn't win.
Each cartoon of soup or pudding pack carried a unique code number which customers had to enter on the "win a farm" website to see if they qualified for a prize.
But it appears that whoever had the winning number threw their packaging away without checking.
Now, the company's Facebook page and other consumer websites have been hit with complaints.
One riled competition entrant hit out at the competition saying: "Well that's not fair…it should have been a straightforward draw."
Another said: "You can stick this imaginary farm where the sun don't shine! I'll grow me own turnips."
The Facebook commentators, meanwhile, continue to demand that the company finds a way to award the prize.
Nigel Parrott, group marketing director at New Covent Garden Soup Co, said: "We appreciate that people are disappointed that the 'win a farm' prize wasn't won, we are just as disappointed and we take the feelings and comments of our customers very seriously.
"Our consumers were getting a free entry via an on-pack code with every carton of soup they bought, but unfortunately, the winning code was not entered into the website, so the prize was not claimed.
"We had 267,000 entries to the competition. Had all packs been entered, someone would definitely have won. We are now reviewing how future promotions should be run and are taking these comments into consideration."
Annie Swift, chief executive of the Institute of Promotional Marketing, said: "The IPM looked at this promotion before it went live, as we do with thousands of these promotions every year – there was nothing wrong with the terms and conditions.
"It was legal and it followed the CAP Code, the rules which cover promotions like this."
Follow John Reynolds on Twitter @johnreynolds10
This article was first published on marketingmagazine.co.uk
comments powered by

Disqus
---