---
Additional Information
---
Content
Cameron backs Dow's wrap sponsorship
Prime minister David Cameron has said he "cannot see a problem with the International Olympic Committee being sponsored by Dow", despite heavy criticism from campaigners.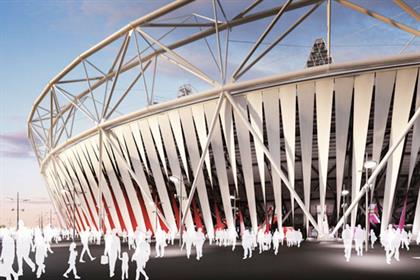 London's Olympic Stadium: artist's impression of how the wrap will look
Thousands of people were killed and injured in 1984 when gas leaked out of a Bhopal pesticide plant that was owned by Union Carbide India, then a subsidiary of Union Carbide. Union Carbide was later acquired by Dow Chemical.
Some critics want the International Olympic Committee (IOC) and London 2012 to end their association with the company.
Politicians including Tessa Jowell, the shadow Olympics minister, have called for the deal to be axed.
However, Cameron said he did not believe Dow should be prevented from sponsoring the IOC or London 2012.
In an interview with Indian television CNN-IBN, Cameron said: "Obviously, people have a difficulty with individual sponsors. I don't happen to share that view.
"People who do [have a problem] may take it up with the IOC and they have to make their own decisions.
"What I am saying as British prime minister, wanting to see the Olympics to be successful, is I want to see the Olympics not used for industrial or political or other purposes.
"I cannot see a problem with the IOC being sponsored by Dow. Therefore I cannot complain about Dow sponsoring the London Olympics.
"It is their [the IOC] decision making process. I do not criticise their decision making process."
Cameron pointed out that when the disaster struck Dow Chemicals was not the owner of Union Carbide.
He said: "Of course I understand the anger there is. The huge suffering that happened at Bhopal and afterwards, and in fact my heart still goes out to all those who suffered from that appalling tragedy.
"I can remember as a young man reading about that and being profoundly shocked by what happened.
"But I think we do have to recognise...important points. Dow was not the owner of Union Carbide at the time, so this is a different company and a different business.
"It would be a very sad day [if India boycotts London 2012 because of the sponsorship deal]. By all means, take up the issue with the IOC but a boycott will not be the right action."
Last week Lord Sebastian Coe, chairman of Locog, defended the plans of another sponsor, McDonald's, to build the "world's biggest" McDonald's outlet in the Olympic village.
Follow John Reynolds on Twitter @johnreynolds10
This article was first published on marketingmagazine.co.uk
comments powered by

Disqus
---