---
Additional Information
---
Content
Domino's hits £1m sales in a week through mobile transactions
Domino's Pizza has reported that more than half of its UK delivery sales are now through e-commerce and it says that for the first time, it has taken in more than £1m in sales in one week through app and mobile transactions.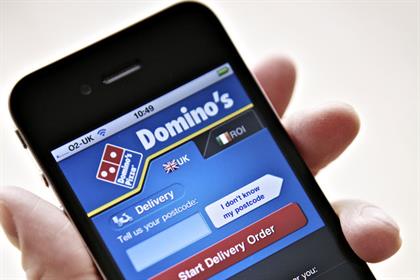 Domino's Pizza:took more than £1m a week from orders via mobile transactions
The company today (28 March) updated the market on its 13-week period to 25 March.
The pizza takeaway company reported sales up 9% year on year to £144.2m, helped by new store openings and online sales growth.
It highlighted its e-commerce sales, which it said made up 50.6% of UK sales in the period. Overall, online sales came in at £59.3m, nearly a quarter of which came through mobile transactions.
In the UK, sales were up 3.6% and by 1.7% in the Republic of Ireland.
In a first for the company, it said it had reported more than £1m in sales in a week through its mobile platforms. This includes its variety of mobile platforms including its iPad, iPhone and Android app, and its mobile-optimised website.
Domino's, which has more than 520,000 fans on Facebook in the UK, is a major advocate of digital marketing, which it says has boosted its online sales.
Earlier this month, Marketing revealed that Domino's had produced its first Facebook-specific TV ad, which will highlight its offer of free cookies to followers who spend more than £10 on pizzas.
Lance Batchelor, chief executive of Domino's, said: "We may have a softer comparative for the second quarter of the year, but we will not be taking our foot off the accelerator. We have a number of marketing initiatives and other programmes aimed at ensuring our franchisees can profitably grow their business in the coming months."
Follow John Reynolds on Twitter @johnreynolds10
This article was first published on marketingmagazine.co.uk
comments powered by

Disqus
---