---
Additional Information
---
Content
Marketing group that contains PR remains hardest hit in Q1 Bellwether Report
The first quarter IPA Bellwether Report has revealed that budgets in the category that includes PR have once again dropped more than in any other marketing discipline, despite marketing budgets generally heading upwards.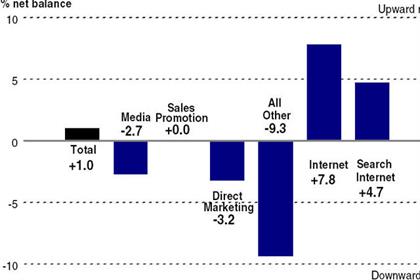 Bellwether Report: PR dropped more than any other marketing discipline
The 'all other' category of the Q1 2012 Bellwether Report, which includes PR, recorded a drop of 9.3%. This follows a drop in budgets in the previous quarter of 7.1%.

However, overall, 22% of survey participants across all marketing disciplines recorded an increase in spend, versus 21% who noted a reduction. The most impressive growth was internet advertising where budgets grew by 7.8%.

The report states that this upward revision is in response to new product launches, expectations of better economic conditions and higher rates of return on investment.

The quarterly survey of marketing expenditure also revealed that business confidence has bounced back to the highest level in two years among marketing executives in relation to their own companies' prospects, with a net balance of 19.1%, up from -12.4% in Q4.

And the net balance for executives' views of the industry in which they operate surged from -44.9% in Q4 to a six-quarter high of 1% in Q1, the largest quarterly jump in the history of the report.

In spite of the rise in confidence, companies are still displaying caution, planning to increase their budgets for the new accounting year (2012-13) to the smallest extent in three years.

Nicola Mendelsohn, IPA president, executive chairman and partner, Karmarama, said: 'Business confidence is returning, which is welcome news. Companies have also set their budgets higher for 2012, albeit with a much greater degree of caution than in recent years due to the continuing uncertain economic climate.

'Yet there is no doubt that key events such as the London 2012 Games and the Queen's Diamond Jubilee will do much to ensure that marketing spend continues to rise.'


This article was first published on prweek.com
---