---
Additional Information
---
Content
Watch Boris Johnson ambush Nick Clegg's radio phone-in
Nick Clegg was surprised by a recorded question from caller 'Boris from Islington' on his LBC radio show this morning.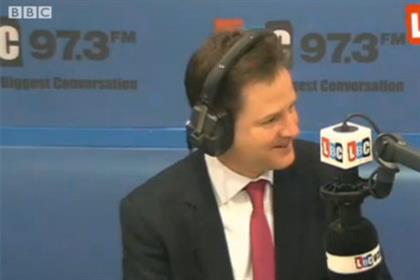 Nick Clegg: Surprise caller
The Mayor's office told PRWeek that London Mayor Boris Johnson was asked by LBC reporters to record a message for the Deputy Prime Minister while doing press interviews about stamp duty yesterday, and was 'more than happy to ask the Deputy Prime Minister a question.'
Johnson asked Clegg about getting ministers out of 'posh limos' and 'onto public transport like the rest of us.'
A spokesperson for LBC said Nick Clegg was unaware that the message was from Boris Johnson before it was played. Watch his reaction below.
This article was first published on prweek.com
---