---
Additional Information
---
Content
Rewarding Passion - Gavin Dein, Chief executive Reward
There are some things in life none of us has a choice about and, for Gavin Dein, a passion for football and his father's beloved Arsenal are among those.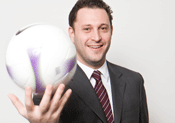 Dein's father, David, was Arsenal's vice-chairman and part owner and a founder of the Premier League. "Supporting another team or getting an earring would probably have been the two things that would have got me kicked out of the house," his son says.
The younger Dein's inherited love of the game has given rise to another passion - his unique loyalty programme business, Reward. The cardless loyalty scheme started as a way for football fans to get tickets, team paraphernalia and vouchers for free - and for the participating clubs and retailers to learn more about their customers. Now Dein is expanding the concept beyond the male-dominated world of football - as well as rugby and cricket - into areas such as music downloads, cinema tickets and charitable donations.
"My goal is to pay for people's passions - as long as they are legal," says the 31-year-old of his programme, which enables consumers to collect points by using any credit or debit card they have registered for purchases at the scheme's participating retailers.
Dein says Reward is unique because, rather than being tailored to a single retailer's objectives, it is focused on what users want to do with their rewards. "When you start with the rewards, you're more likely to change consumer behaviour than when you start with the retailers," he argues. The original idea was that football fans seeking match tickets and team kit were more likely to shift their business to participating retailers than consumers who did not know what they wanted from their loyalty points.
Dein says focusing on the customer was something he learned from his father, whom, he maintains, always acted with Arsenal supporters in mind. "In football, the fans are your lifeblood," he explains. "You don't get sponsorship, TV rights, gate receipts or merchandise turnover without the fans, so you've got to put them first."
In 1998, Dein began working for Arsenal in fan relationship management, and later researched the possibility of the club launching a rewards programme modelled on Air Miles. "We were looking at ways to increase our database and the number of fans on it who not just passed the pub test and said they were fans but interacted with the club," he says. But he soon realised that a club could not launch such a programme on its own: "We needed to have a big volume of members to justify what we were doing."
Dein - a graduate from Babson College, a US business school in Boston focused on entrepreneurship - spotted the opportunity to develop a loyalty business that catered for football clubs while providing them with supporter data, so he left Arsenal to launch Reward with support from the property-holding Tchenguiz family and venture capital investors. After piloting membership-card programmes with Birmingham City, Everton, QPR, Portsmouth and Aberdeen football clubs, Dein realised that cards would not work in such a fragmented loyalty network, and so sat down with his partners to discuss the development of technology that would allow Reward users to simply use their own credit and debit cards.
Reward now has close to a million registered cards with partnerships that encompass 3,000 high-street shops and 5,000 retail websites. In football alone, Reward runs loyalty programmes for 80 clubs. While Arsenal has yet to join - Reward is working with the club to develop a scheme - arch-rival Tottenham Hotspur has. "I try to register for every programme and I did take a lot of stick when I joined One Hotspur Rewards," Dein admits.
Reward has remained largely focused on men, with partner retailers including Amazon, eBay, Arcadia, JJB and Halfords, as well as hundreds of pubs, bars and restaurants. But the company has started to provide rewards for music and film fans and even fishermen - and, most recently, charity donors, which will see its core demographic shift. "Now, as we expand, we'll have to start looking at places such as Mothercare - which obviously won't be right for our football-fan base," says Dein.
So, for Dein, it's less about the football now, and more about understanding and rewarding a much wider range of passions.
QUESTIONNAIRE
If I was not in loyalty marketing ... I would probably buy a football club and do what I'm doing within that.
My most embarrassing moment ... Was walking out on the pitch to present a Birmingham fan with a signed shirt, with 20,000 people chanting "Who the fucking hell are you!"
Favourite movie ... The Shawshank Redemption
CURRICULUM VITAE
2001-present Founder and chief executive, Reward
1998-2000 Sponsorship and fan relationship management, Arsenal Football Club
1994-1998 Babson College, Boston, Massachusetts.
This article was first published on marketingmagazine.co.uk
comments powered by

Disqus
---