---
Additional Information
---
Content
BBC to boost social networking on websites to halt web rankings slide
LONDON - The BBC is to introduce social networking across its websites, having dropped out of the top five most popular sites in the UK last month.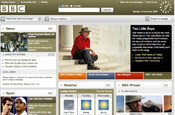 October's Comscore UK figures showed that Facebook had climbed to fifth in the rankings, edging out BBC sites, including BBC iPlayer.
Erik Huggers, the BBC's director of future media and technology, said that the corporation's sites needed to start embracing social media. He expressed concerns that bbc.co.uk, in particular, was not interactive enough.
'Every time I go onto bbc.co.uk I feel alone. Instinctively, I know there are other people on the site, so we need to connect audiences with programming and with each other, embracing social media,' he said.
Jason Carter, managing partner at Universal McCann, said the BBC should start conversations around its news content. 'The BBC was one of the earliest adopters of web 2.0 techniques and one of the first to offer commenting on its stories. It makes sense to develop it into a more social platform, but it is a very different place from Facebook and its networking should fit around the diverse range of content it offers.'
Meanwhile, the BBC is also planning to open its iPlayer service up to a global audience, said Huggers.
The iPlayer has met with unexpected levels of success since its launch last Christmas, and an international version would put the portal head-to-head with major video-on-demand services, such as Hulu, in the US.
Huggers added that the BBC's priority was to make the iPlayer available on as many digital platforms as economically possible. 'The internet is, by definition, a global medium, yet today we are artificially blocking international access to the iPlayer. That's a problem, in my mind, and a big challenge for the industry,' he said.
This article was first published on marketingmagazine.co.uk
comments powered by

Disqus
---