---
Additional Information
---
Content
Eye tracking research could make Bing an advertiser's sweetheart
LONDON - Microsoft's Bing has some ground to make up before it ever catches Google, but the new kid on the block may be the sweeter deal for advertisers, as research shows Bing users are more likely to read sponsored advertising than those searching with Google.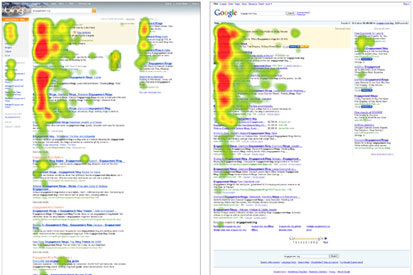 Bing: winner of the staring contest
Tracking the eye movements of a small sample of web surfers, research firm User Centric found that nearly half of Bing users read through the display ads on the right hand side of the search results, compared to a quarter of Google users.
Research found that participants who fixated on the link spent about 2.5 seconds looking at the ads during transactional searches and 2 seconds during informational searches.
User Centric said Bing's three column layout, with related links on the left, organic results in the middle and advertising on the right, creates "bookends" which makes the user read from one end of the other.
However, Google's two columned approach doesn't seem to be a disadvantage with organic search results or the sponsored links above them. Google and Bing did not differ in terms of attention at organic search results and over 90% of participants looked over the sponsored links on both Google and Bing.
Only 21 participants were fielded during the User Centric study. The company said it expects to continue research in the months ahead with a bigger survey pool, as Bing becomes an established search engine.
This article was first published on marketingmagazine.co.uk
comments powered by

Disqus
---