---
Additional Information
---
Content
Augmented reality: the game
LONDON - Interactive marketing agency Zugara has released an augmented reality motion capture game 'Cannonballz', allowing anyone with a webcam to interact with the elements flashed on their video stream, while sharing their high scores through Facebook Connect.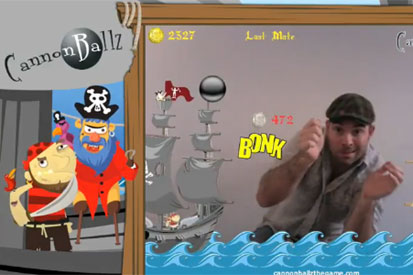 Cannonballz: augmented reality in the comfort of your own home
Zugara claims Cannonballz is the first casual game built using augmented reality and its motion capture user interface engine, or ZugMo technology.
Using ZugMo and a webcam, users can physically engage with various elements that are integrated within the video, without a mouse and keyboard, all done with gesture recognition.
In Cannonballz, players must dodge a barrage of cannon fire, while 'saving' their Facebook friends, who are heaved from one of two pirate ships.
Players can upload their high score onto the Facebook profile page, or share the game with friends.
The company said: "With this immersive technology you no longer just play games, you get to be in them."
Zugara previously used the technology to build an online shopping application called the Webcam Social Shopper, which allows users to seemingly hold articles of clothing up in front of themselves to see how they look.
The company said it plans on branching out its technology to help engage consumers with a brands or product demonstrations.
Matt Szymczyk, chief executive of Zugara, said: "We chose casual gaming as a way to showcase the ZugMo Technology because over 200 million people play casual games every single month.
"Gaming is also the perfect execution to show the power of social media integration."
This article was first published on marketingmagazine.co.uk
comments powered by

Disqus
---