---
Additional Information
---
Content
Manchester Airport starts tweeting (about muffins)
LONDON - Manchester Airport has joined the world of microblogging, launching its own Twitter account to drive marketing activity for its summer retail campaign and inform customers of travel updates - as well as tips for scratching up some pre-flight grub.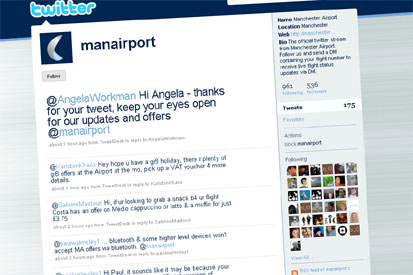 Manchester Airport's Twitter page
Live flight data is already available through the website but passengers or visitors can now send a direct message containing their flight number and will be sent a direct message every time the status of their flight changes.
Users can follow @manairport and the airport will automatically follow them back allowing the airport to continue to update them on the status of their flight. Users can also redeem vouchers for use in the new terminal format for summer 2009.
At present, Manchester's Airport is very active in engaging its customers, tweeting at everyone who has typed 'Manchester Airport' in some facility on the website.
Whether informing travellers of deals: "Hi, if ur looking to grab a snack b4 ur flight Costa has an offer on Medio cappuccino or latte & a muffin for just £3.75" and well-wishes: "Hey hope u have a gr8 holiday, there r plenty of gr8 offers at the Airport at the mo, pick up a VAT voucher 4 more details."
By 'retweeting' a voucher available to download today, everyone who refers a friend to follow the airport will be entered into a monthly prize draw to win £500 of airport shopping vouchers, free holiday car parking and overnight accommodation at a nearby hotel.
This is the first time that Manchester Airport has used online media as part of its marketing activities and for the first time sees the airport using social media tools to engage with its customers.
Andrew Harrison, commercial director for Manchester Airport, said: "In the current economic climate people are being much more savvy about how they spend their money but they still see their summer holiday as essential. We have created the retail vouchers to help our customers make their hard earned money go much further."
In the capital, London's Gatwick airport launched a Twitter page less than a month ago with similar updates and deals, while Heathrow's, real or not, has not been updated since March.
This article was first published on marketingmagazine.co.uk
comments powered by

Disqus
---