---
Additional Information
---
Content
World Wildlife Fund doubles acquisition activity with new adoption DRTV campaigns
LONDON - World Wildlife Fund UK (WWF-UK) has launched a series of DRTV campaigns as part of a major acquisition drive to encourage new supporters to adopt an animal.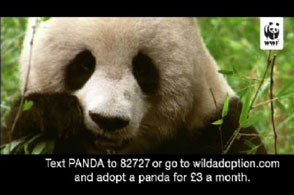 WWF: doubled its acquisition budget in past year
The campaign was created by integrated agency Kitcatt Nohr Alexander Shaw and rolls out this month.
Kitcatt Nohr was asked by WWF-UK to create a series of DRTV ads to acquire new supporters through its adoption programme.
WWF's adoption programme is extending to include new animals like the amur leopard in 2009 which will enable adopters to choose from ten animals including the panda, polar bear, tiger and orangutan.
The first 60 second DRTV ads to break will support WWF's panda and amur leopard adoption campaigns in September and October.
The two new ad executions will air on terrestrial and satellite TV channels including Channel 4, ITV 2, ITV 3, Nickelodeon, E4, Discovery and Sky Arts. Campaign media was planned and bought by media agency, Total Media.
The panda, which has featured in WWF's logo since 1961, stars in its own DRTV ad aimed at raising funds to conserve the endangered giant panda's habitat and reduce deforestation.
The advert features a giant panda and her cub playing and feeding in the forest and communicates the idea that without urgent action to protect the gentle panda and its shrinking habitat, future generations of cubs won't survive.
The campaign's DRTV ads will drive responders to www.wildadoption.com or invite them to text or call WWF.
Those who sign up to the programme are asked to donate a minimum of £3 a month. In return, they receive an adoption pack and regular updates about WWF and the adopted animal over the course of the year.
Becki Jupp, head of acquisition at WWF-UK, commented: "Giant pandas are now very scarce across China with only 1,600 pandas remaining in the wild due to a decline in their forest habitat. One of our many aims is to increase panda habitat in the Minshan mountains of South East China by 2010. This DRTV campaign will help raise valuable funds to achieve this and other goals to preserve the panda population."
This article was first published on marketingmagazine.co.uk
comments powered by

Disqus
---