---
Additional Information
---
Content
Microsoft delays UK launch of Bing until next year
LONDON - Microsoft is putting back the full UK launch of Bing, its much-hyped rival to the Google search engine.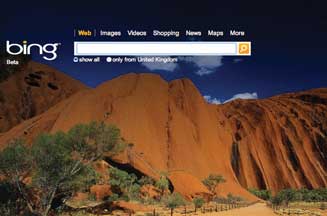 Bing
Sources close to Microsoft said the UK marketing activity for Bing would also be delayed until at least the first quarter of 2010, and possibly later. The site has been in beta testing since June, with no UK marketing activity since.
VCCP Search managing director Paul Mead said: 'The user experience from the UK perspective is not living up to expectations, so they go back to Google.'
Bing is focusing on negotiating deals with media owners to direct search traffic from third-party sites.
In the US, Microsoft set aside $100m (£60.3m) to advertise the service.
The company had said UK marketing for Bing would start once the site had been made more relevant to British users.
Microsoft has been advertising for staff to join Bing to create UK-specific search categories.
One senior search agency executive commented: 'If the product is not localised enough for the UK, it won't work. It is already losing share each month.'
Mead agreed: 'People will try it once, but they will run out of chances with users.'
Bing's UK marketing appears to have taken a back seat to other products; meanwhile, Microsoft has apparently prioritised the high-profile TV and online campaign for Windows 7, its latest operating system.
Separately, a deal for Bing to power Yahoo! search has also been pushed back to 2010.
Microsoft declined to comment.
This article was first published on marketingmagazine.co.uk
comments powered by

Disqus
---