---
Additional Information
---
Content
Ribena to pilot Juiced Up product in schools
LONDON - Ribena's decision to launch a healthier juice-based product specifically aimed at children and teens has been welcomed by brand experts.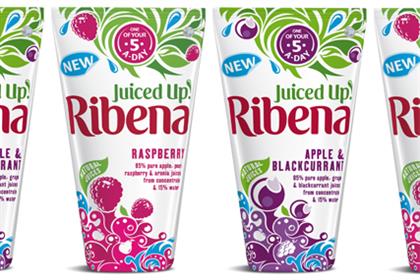 Ribena is backing Juiced Up after pulling its light variants
Brand owner GlaxoSmith­Kline (GSK) is kicking off its activity for Juiced Up by approaching school catering groups. It said that Juiced Up, which is made from 85% natural fruit juices and 15% water, a higher proportion of juice than the regular Ribena squash product, meets UK government guidelines for school food.
Packaged in 180ml wedge-shaped Tetra cartons, the drink provides one of the recommended five a day portions of fruit and vegetables. It will initially be available in Apple & Blackcurrant and Raspberry flavours.
GSK's launch strategy is intended to avoid the pitfalls to have befallen previous Ribena campaigns. In 2001, the brand suffered a setback with its Toothkind product, a lower-sugar variant of Ribena squash it had launched in 1998 and aimed at teenagers.
It was forced to drop the claim that the product did not encourage tooth decay and in 2005 replaced the Toothkind and Ribena Light brands with Ribena Really Light.
According to David Goudge, managing director of innovation firm Brand Development, getting the latest strategy right is key if Ribena is to re-establish itself in the younger market.
Goudge said: "I would imagine that at first [Juiced Up] won't make much money through schools, but the launch indicates that it's trying to establish a strong positioning for the brand.
"Ribena is developing a heartland for its positioning which is positive and gives it a moral high-ground, with credibility straight away.
"Toothkind was done with good intentions, but was too clever for its own good at the time. The difference with Juiced Up is that it is simple, and it's this simplicity that works in Ribena's favour."
While the drink will initially be made available to school food services, a spokeswoman for Ribena said it could be rolled out to other channels. Ribena believes Juiced Up will particularly appeal to teens.
Andy Mahoney, Ribena's brand manager, said: "With school nutrition now a key government initiative, Ribena Juiced Up offers nutritional value in a new format for the foodservice channel."
Despite increasing sales last year, the Ribena brand still trails some way behind rival Britvic's Robinsons squash offering. In 2009, Ribena achieved sales of £51.9m, compared with Robinsons' £204.9m, according to Nielsen.
Expert comment: Hilary Strong, director, The Brandbean
"This is a smart move for Ribena – getting back to what the brand has always been about: berries. In the days of "light" everything, the previous launches made sense, but deprivation and cutting back or out just never felt quite right for Ribena.
"This is a great British brand, bursting with fruit and flavour. This new launch has a real sense of pride.
"The distribution strategy is an innovative way to build awareness and trial within a new consumer group and occasion. 'One of your five a day' feels to me to be the right and relevant way for Ribena to nod towards health, while retaining the brand's rightfully positive tone of voice."
This article was first published on marketingmagazine.co.uk
comments powered by

Disqus
---