---
Additional Information
---
Content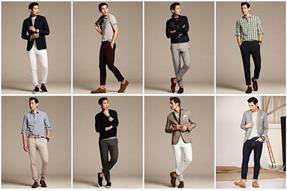 Banana Republic has launched an online boutique to promote signature looks for different professions, including the stereotypical Silicon Valley "start-up guy".
More
Related stories
Breaking news

Many print ads are lucky enough to warrant a fleeting glance. This ad for Ford demands at least 30 seconds of your time, or you'll miss its point entirely.
Prime minister David Cameron is expected to appoint Joanna Shields, Tech City's chairman and ambassador, as his digital tsar.
The content marketing agency Kameleon has been appointed by the sofa retailer Sofaworks as its lead strategic agency.

Ryanair has announced a net profit of €197m £(156m) for its first quarter, a 152% hike on the same period last year, a performance driven in part by a concerted effort to improve its once-combative approach to customer service.
The Mayor of London's office is seeking a brand partner for the capital's New Year's Eve celebrations, following the decision of Vodafone not to sponsor the event for a second year.

Britvic is on the hunt for a UK marketing director following the appointment of incumbent Jonathan Gatward to the post of global category and capability director.

Malaysia Airlines may change its name as it contemplates a rebrand to salvage its reputation after two tragic incidents in less than six months.
Specsavers' creative director Graham Daldry describes how his in-house team turned Luis Suarez biting an opponent into a viral ad for his brand in less than 16 hours.
Stuart Duncan, the former chairman of Crawfords, whose advertising career spanned more than half a century, has died aged 85.
Part of what makes this ad so affecting is the juxtaposition of black and white footage and 1920 s setting, soundtracked by an unnerving late 90 s techno song. Working from a first person perspective, the ad follows a young man in what appears to be ...
Created by John Webster for BMP DDB, the now somewhat controversial cartoon shows a young boy denying a crow a drink of his Kia Ora, saying "It s too orangey for crows, it s just for me and my dog". A succession of crows then follow the boy offering ...
Account reviews
Account wins
Latest campaigns
---