---
Additional Information
---
Content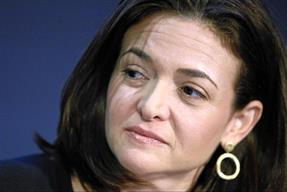 NEW YORK - Sheryl Sandberg, Facebook's chief operating officer and the author of 'Lean In', led an Advertising Week panel that explored gender roles in global campaigns.
More
Related stories
Breaking news

Mike Coupe, Sainsbury's chief executive officer, has defended the supermarket's "50p challenge" blunder, calling it a simple mistake, as the retailer reports sales have dropped over the quarter.

I am eight months in to my China journey, and the differences have been more amazing and challenging than I could have ever imagined experiencing. Some things in media are the same everywhere, though, and recent UK figures confirming the shift away f...

NEW YORK -- At Advertising Week, Electronic Arts' Dana Marineau said that sometimes marketers have to throw a Hail Mary pass to keep brands relevant.
Although Uber was launched in 2012, it was only this summer that it came to prominence in the UK, after provoking the ire of London cabbies.
The man who started Ikea, Ingvar Kamprad, was well stocked in the religious zeal department. He had a mission to create a better life for the many, and you have to admit there's something rather wonderful about that. It certainly explains the derivat...

Asos, Selfridges, The Guardian and Lancome are among a number of brands whose work will be celebrated at the Body Confidence Awards, which mark the start of a new national movement aimed at promoting positive body image.

Instagram has partnered with boutique travel brand Herb Lester to produce guides to London, Paris and Berlin that feature unusual photos taken by its users.
Tesco made an appeal to the Intellectual Property Office this week, asking the body to overturn its decision not to allow it to register the dashes under the retailer's logo as a trademark.

Haymarket Media Group is launching its leading advertising and marketing title, Campaign, in the US.
NEW YORK - Three of the world's most respected creatives rejected the idea that algorithms and computers will ever replace people in the advertising industry, at Advertising Week in New York.
Condé Nast, publisher of Vogue, Glamour and GQ, has made four key hires to its central digital team.
Account reviews
Account wins
Latest campaigns
---