---
Additional Information
---
Content
All work and no play makes brand strategies a dull ploy
Brands need to get serious about play if they want to create a richer level of shopper engagement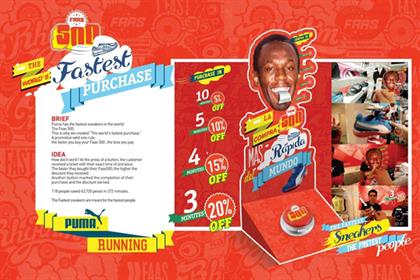 Plato observed that 'you can discover more about a person in an hour of play than in a year of conversation'.
If brands want to truly connect with their customers and foster interaction and engagement, they must drop the sales talk and discover the power of game-playing.
In the process, marketers will discover willing participants. About 120m people in the UK and US are playing social games online, and two-thirds play at least once a day. Today's online gamer doesn't conform to the traditional stereotype: the average gamer age is 37, and 42% are women.
With consumers leading digital-focused lifestyles to an increasing degree, game-playing is an important means of strengthening our network of social connections.
Similarly, brands striving to adapt to technology's fragmentation of traditional retail are discovering how fun and playfulness can create integrated and seamless shopping experiences.
Puma recently rewarded the speediest buyers of its FAAS 500 running shoe in Mexico with discounts based on how quickly they could race through the store and complete their purchase.
Leisure retailer Globetrotter has also taken a playful approach, encouraging shoppers to explore the great outdoors in its Munich store with climbing walls, monsoon rain rooms and kayaking lakes.
This re-imagining of a brand's physical presence is essential in the context of anywhere/anytime digital retail. Through the provision of these rich, multi-sensory experiences, savvy retailers are turning their stores into product playgrounds.
By introducing this level of playfulness into the shopper journey, brands can entertain their customers in a way that shows their generosity and personality. The result is a heightened level of engagement with the customer and a serious competitive advantage.
THE UPSHOT - WHAT BRANDS SHOULD KNOW ABOUT THE POWER OF PLAY
Exploring and imagining
Game-playing is a powerful tool to entertain, educate and inspire. It can transform the shopper experience from a passive, linear path into an opportunity to explore and imagine. Brands must understand and influence the mind-states of individual shoppers, using this insight to lead them on a rewarding journey of discovery.
Consumers want to touch and test products to make informed purchases. To get these products into the hands of the shopper, a store must remove barriers to interaction. Retail spaces are becoming brand playgrounds that provide the customer with a greater degree of access, even involving them directly in the creative and production processes.
In an integrated, multi-channel world, the role of the store is being redefined, and traditional measures of success also need to be re-evaluated. A retail landscape is emerging in which the focus is not simply on immediate in-store sales, but also on the store's contribution to sales across multiple channels over time, with rich and multi-sensory brand experiences.
Lois Jacobs is chief executive of global design consultancy Fitch
This article was first published on marketingmagazine.co.uk
comments powered by

Disqus
---