---
Additional Information
---
Content
Promotional Feature
Champions of Design: Havianas
The Brazilian brand has designed its way from being a staple in its homeland to an aspirational global fashion line.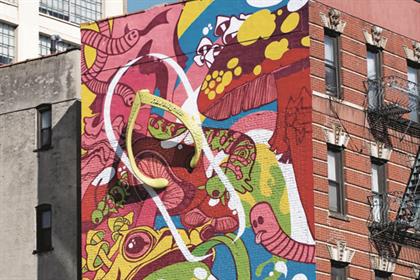 Brand lesson by James Joice, client director, JKR
The January 2000 edition of Vogue feat­ured Gisele Bündchen on its cover with the headline "What's sexy now?" As another of Brazil's most success­ful exports, she represented a shift from 90s heroin chic to a healthier, curvier look. The "glamazonian" reshaped the direction of mainstream fashion and gave Brazil new allure. It also provided the perfect backdrop for Havaianas' global invasion. With the Brazilian flag in its design armoury, the brand forged a direct connection with its homeland to trigger all our positive associations with the country. Through a pair of Havaianas, we could all walk in a little Brazilian sunshine.
In the main, the brand uses design
to provide just enough endorsement.
Of course, you can add charms and
Swarovski crystals when you "make
your own Havaianas" at Selfridges. But generally, the embossed word­mark balances understatement with just enough prominence to be identified at a glance.
It's a subconscious thing, but if
you can't spot Havaianas on the strap you assume they must have come free with a magazine. In what was once a commodity
market, Havaianas has leapt to a
position of definitive article. It can't be bettered, yet its relative affordability means it's a truly democratic brand – comfortably straddling the retail expanse from Matalan to Harrods.
The most successful brands stand
for something bigger in people's
minds, and Havaianas have come to
symbolise the spirit of Brazil. With a
World Cup and an Olympic Games
to host, they still have a lot of
ground to cover.
Havaianas is the story of a shoe that had to become a brand to survive.
The ubiquitous flip-flop, now seen almost as a national symbol of Brazil, was launched in 1962 and, thanks to its durability, comfort and cheapness, soon became a huge success. By the late 80s, Alpargatas – the company responsible – was selling 100m pairs a year and controlled 90% of the domestic market.
However, Brazil's growing economic success signalled a downturn in the fortunes of the cheap and cheerful sandal. As the population gradually became richer, Havaianas was seen as the footwear of the poor and, therefore, non-aspirational. Sales dropped dramatically, down to 65m by 1993. Alpargatas wasn't consoled by the fact that this still meant the product was profitable. It realised drastic action was required to reverse the trend and so a brand was born.
The revamp occurred on several fronts. The choice of styles was widened dramatically, from two to 25, in a variety of colours with vibrant packaging to match. By selling newer, more expensive styles in boxes, customers were encouraged to see them more as shoes than humble flip-flops. Cheaper versions were retained, but new ones came with a hefty mark-up of 600%. Simul­taneously, the company embarked on an ambitious marketing programme, driven by a series of celebrity-led ads that emphasised the youthful irreverence of the brand alongside traditional Brazilian national character­istics of happiness, sensuality and joie de vivre.
The strategy chimed with Brazil's growing economic success and accompanying sense of self-confidence. By the end of the 90s, more than 105m Havaianas were being sold every year: the decline had been reversed. This turnaround in fortunes allowed Alpargatas to look abroad for expansion, first into neighbouring Latin America and subsequently into the lucrative European and North American markets.
In the early 2000s, Havaianas began gracing the feet of the likes of actress Jennifer Aniston and surfer Kelly Slater, while appearances on the runway at a Jean-Paul Gaultier show and in the 2003 Oscars goody bag all added to the brand's growing international momentum. In 2007, the brand launched in New York and the following year it was made available in Paris. In both instances, it was sold only in upmarket retail outlets; prices ranged from $16 at the entry-level to $200 for those who prefer their flip-flops encrusted with Swarovski crystals.
While ensuring that it does not forget its core customer base in Brazil (where 94% of the population either own or have owned a pair) the company has recently expanded into India, where similar footwear is already popular. Over the past few years the brand has also cautiously diversified, with the introduction of a well-received tote bag and other accessories. The 2014 World Cup in Brazil promises to make all things associated with the country hugely commercial and Havaianas, with its close identification with Brazil and its carefree lifestyle, should be poised to take full advantage.
Did you know?
Havaianas means "Hawaiians" in English. The name was chosen because in the early 60s Hawaii represented the dream destination for most holidaymakers.
As the leading brand in the sector, Havaianas were frequently copied. Company ads warned of these "fajuta" (fake) sandals, and the word fajuta became so widely used that it was included in Brazilian Portuguese dictionaries.
Last year, 184m pairs of Havaianas were sold, equating to six pairs being bought every second. In total, 3bn pairs have been sold.
Havaianas have long been seen as integral to Brazilian life, so much so that during the economic crisis which beset the country in the 80s, the government controlled their price alongside such staples as rice and pulses.
It has been suggested that the company got the idea for introducing more colourful versions of Havaianas from a trend started by Brazilian surfers who liked to remove the straps from the shoes and replace them sole­ side up.
Sector round-up
Converse

Despite being well into its second century and now owned by Nike, Converse remains relevant and retains its youthful cool, thanks to cleverly understated marketing, strong sporting and cultural associations and continuous cutting­edge collaborations.
The most recent of these has been a tie­up with Australian motorbike manufacturer Deus ex Machina.
Toms

It was the simple Argentinian alpargata slipper that gave TOMS' founder, Blake Mycoskie, the idea for his breakthrough business concept, One For One.
Using the alpargatas (also the nominal inspiration for the manufacturers of Havaianas) as a template for its footwear, TOMS donates one pair of shoes to those in need around the world for every pair it sells.
The idea, which embeds philanthropy into the fabric of the company, has now been successfully expanded into eyewear.
Crocs

Emblematic of the counter­ intuitive success of the plastic shoe which took over the world in 2007 was an ad for the brand which ran in Vanity Fair and simply read: "Ugly can be beautiful."
To many they remain the ultimate fashion footwear faux pas; others saw them as indicative of a new infantilism, but many more simply liked their comfort, colour and simplicity. They rose, they fell, they survived. Agree to disagree.
Birkenstock

The contoured sole and comfort of Birkenstocks made them popular with those whose jobs demand long periods on their feet, such as doctors and nurses, long before they became a fashion item.
Broadly associated with the counterculture since the 60s, the brand received the ultimate recognition when conservatives called their opponents "Birkenstock liberals" during the 2004 US presidential campaign.
JuJu

Long before Crocs, there were Jellys and the originals were made by JuJu. The British company found a market for the plastic sandal which rapidly became ubiquitous, particularly among children, in the 90s.
Now they're making a comeback – musician Azealia Banks was seen sporting a pair last year – but given that The Dude (Jeff Bridges) wore them in The Big Lebowski, some would say they are a timeless classic.
This article was first published on marketingmagazine.co.uk
---