---
Additional Information
---
Content
Promotional Feature
Champions of design: Transport for London
The network has built itself a distinctive and enviable brand identity that is recognised the world over.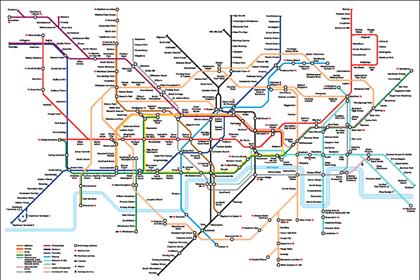 Brand Lesson
by Silas Amos, creative strategist, JKR
There's something peculiarly British about Londoners' relationship with TfL. When the system's not firing on all cylin­ders, we love nothing more than to moan about it. Most of the time we take it for granted. But if one thinks "London" and closes one's eyes, there is a good chance it's a red double decker or Tube logo that pops up on our inner slideshow. It visually defines us.
The brand has enjoyed its fair share of design rock stars – enough to fill a wonderful museum in Covent Garden with their creations. But we might spare a thought for the generations of unsung "backroom boys" – the people who commissioned far-sighted work. The people who converted creative flair into rigorous systems. And the ones who cherished and preserved those systems against the whims of fashion or political meddling. Dare I also mention the creative talents of the advertising industry which, for more than 100 years, provided sometimes-wonderful wallpaper on the other side of the tracks?
What we experience is actually a melting pot of generations of designers' contributions across all disciplines that, oddly, still has a cohesive feel – quite amazing, really. And each era adds something new and wonderful on top – consider the recent Heatherwick bus.
TfL has got Londoners to work (almost) every day, rain or shine. It has often done it with style – or at least with rigorous thinking and attention to detail. It's a minor miracle and if you really prodded a Londoner, they would typically tell you they are actually pretty lucky to have it.
In 2013, Transport for London made much of the 150th anniversary of the first Underground train journey, a 3.5-mile trip on the Metropolitan Line from Paddington to Farringdon, which took place on 9 January 1863. While these sesquicentennial celebrations were obviously richly merited, they tended to overshadow the 80th anniversary of an almost equally significant occasion in the network's history: the production of Harry Beck's Tube map, quickly recognised as a timeless design classic.
Beck's map, inspired by an electrical circuit and for which he was paid 10 guineas, is still in use – new lines aside, the current version has been adapted only slightly from the design he delivered in 1933. Its longevity, as well as paying testament to Beck's genius for promoting clarity over geographical verisimilitude, reflects the fact that, while TfL is at the cutting edge of new technology in many areas of its business, its design and branding are based on strong traditions of continuity.
Take, for example, the roundel – the blue bar and red circle that now marks every Underground station (and has been adapted to identify the diverse areas in which TfL operates). It has become a universally recognised symbol for the Tube and, by extension, London itself. It is more than a century old, having first been used in 1908, when the different companies that then ran separate lines on the system had looked to create a single, coherent, graphic identity for what they agreed to call the Underground. In the same year, signs were erected outside every station, with the word Underground featuring a large initial U and final D.
The Johnston typeface, designed exclusively for the Underground by calligrapher Edward Johnston, is a sans-serif font that remains in use today (albeit tweaked in 1979 into New Johnston), its elegant simplicity taken for granted – as much great design often is.
Once harmonised with the amended roundel (the red background was changed from the original solid disc to a circle in 1917), it allowed architects such as Charles Holden to use the image boldly in the construction of station buildings such as Arnos Grove throughout the 1920s and 1930s.
From major projects such as Crossrail to the small-scale innovation of its bike-hire scheme, Transport for London has a strong, visible presence in the daily life of Londoners, wrapped in branding that has remained largely unaltered for almost a century.
In 2013, when Beck was honoured with a blue plaque on the Leyton house where he was born in 1902, English Heritage broke with tradition and allowed the lettering on it to be in the New Johnston typeface. You imagine the influential draughtsman would have liked that.
Did you know?
To mark the Tube's 150th anniversary, Nike released limited editions of its Air Max 90 and 1 trainers. The shoes, which feature the roundel on their tongues, bear the colours of the moquette upholstery used on a variety of London Transport vehicles from the 70s onwards, which was originally designed by Sir Misha Black.
In a 2006 poll for BBC2's The Culture Show, the Tube map was voted Britain's second-favourite design of the 20th century, after Concorde.
A spiral escalator was installed at Holloway Road in 1907. It did not prove a success and was the only one used on the Tube network.
The current Crossrail development is both the biggest and most expensive construction project in Europe.
The Underground became known as The Tube after the Daily Mail nicknamed the Central London Railway (now the Central Line) "the Twopenny Tube" shortly after it opened in 1900.
Sector round-up
Metropolitan Transport Authority (MTA)
New York's subway system moves almost 1.7bn people a year. The busiest station by far is Times Square-42nd Street. Sites owned by the MTA have featured in innumerable films and TV dramas, notably The Taking of Pelham One Two Three (1974), in which a subway train was hijacked. On that occasion, the MTA demanded $250,000 plus "hijack insurance" from the film-makers, in case it should inspire any individual to copy the actions of its protagonists.
Land Transport Authority
Established in 1995, Singapore's Land Transport Authority is undertaking a programme of rapid expansion that aims to solve the crowded country's transport problems with a co-ordinated approach. It is on course to double its rail network by 2030.
Berliner Verkehrsbetriebe (BVG)
The distinctive black letters BVG on a yellow background is a familiar sight throughout Berlin as the company manages all of the city's transport systems apart from the S-Bahn (rapid transit system). The city still runs trams, but these are predominantly in the former East Berlin, as those in the West of the city were replaced by buses during the period of partition.
Toei
Tokyo's subway system transports more than 3bn passengers every year and is comfortably the world's biggest such network. Noted for its punctuality, it is not uncommon for public address systems to convey heartfelt apologies for trains running as little as one minute late.
IETT
Istanbul claims the second-oldest underground system in the world after London. It began service in 1874, only three years after horse-drawn trams were first introduced to the city. The company's name (Istanbul Electricity Tramway and Tunnel) is a relic of a time when it also controlled the city's gas and electricity supplies.
Thanks to Transport for London, Berliner Verkehrsbetriebe, IETT and JustinBB for images
This article was first published on marketingmagazine.co.uk
---