---
Additional Information
---
Content
Business leaders most important target for value of PR, new survey finds
Business leaders have been found to be the most important targets in promoting the global value of PR, a new survey has revealed.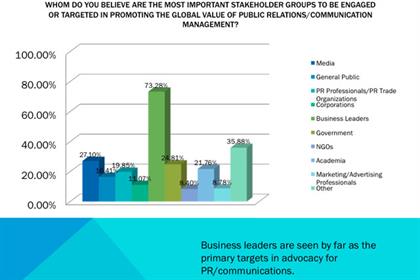 Business leaders: prime targets for PRs
The Global Alliance, a confederation of the world's major PR and comms management associations and institutions, has launched its 2011/12 Global PR Advocacy Survey, which questioned 280 leaders of industry organisations.

The findings revealed that 73% of respondents thought business leaders were the most important group to be targeted in promoting the value of PR. This beat the media with 27% and the Government at 25%. The general public came in at 16%.

The research also showed that new technology and social media represent the biggest threat and the biggest opportunity to PROs today.

Social media came in as the biggest threat to PR, at 38%. This was followed by 'relevance, credibility and trust' and economic uncertainty, both at 16%.

Meanwhile the biggest opportunity to PR was represented by social media (70.87%), globalisation (31%) and executive tools (17%).

The research also revealed that the most important role for comms professional at the moment was seen to be 'applying ethics to comms decisions', which came in at 8.8 out of 10.

'Researching an organisation's reputation and stakeholder environment' came in at 8.79/10.

Global Alliance chair Daniel Tisch said: 'Communication is changing our world, our organisations and our profession, and the Global Alliance survey shows that communication must change as a consequence.'



This article was first published on prweek.com
---