---
Additional Information
---
Content
10 Yetis teams up with Bronco for joint client offering
10 Yetis has partnered up with search engine optimisation specialist Bronco to provide a combined service to clients.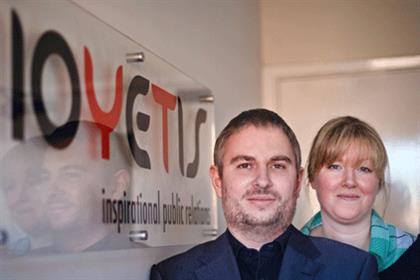 10 Yetis: Co-founders Andy Barr and Jill Tovey
Though remaining separate businesses, the two companies will now work hand-in-hand on client projects and new business in an effort to share best practice.

The coming together follows the agencies, both of which were on the hunt for a partner, working with the same holiday sector client, sunshine.co.uk.

In future, both agencies will open up their respective offices to share desk space with the other, giving Bronco a presence in the South West of the UK and 10 Yetis a presence in the Leeds and Yorkshire region.

There will also be an employee exchange programme, with 37 staff employed collectively by the pair.

Andy Barr, co-founder of 10 Yetis, said the move was about offering 'a more rounded service to clients'.

Of Bronco, he added: 'Despite thinking we knew a fair chunk about search campaigns and strategies, 10 minutes with their team opened my eyes to how much more we need to learn.'
This article was first published on prweek.com
---