---
Additional Information
---
Content
Five agencies asked to pitch for BDO LLP account
Accountancy group BDO LLP has launched a public affairs pitch process, as the group prepares to take on the 'big four'.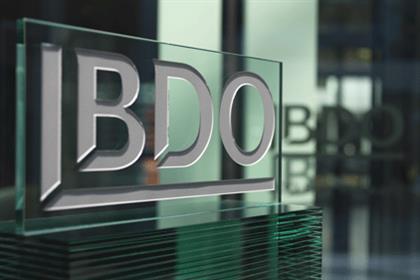 Ambitious: BDO aims to take on Britain's top four audit firms
BDO, which is Britain's sixth-biggest audit firm, has shortlisted five agencies for its retained public affairs account.

The process was initiated after incumbent Edelman resigned the account as it works with PricewaterhouseCoopers in the US, to avoid a potential conflict.

The BDO pitch list is thought to include Blue Rubicon, Fishburn Hedges and Westminster Advisers.

A BDO spokeswoman said: 'We have worked with Edelman for many years. It has recently picked up a bit of business that is a conflict for us. So that has made us think that we should look around.'
She said that the company was currently looking for political positioning and reputation management, adding: 'We have a lot of interesting experts and are seeking advice on who they should be talking to.'
The brief is thought to be worth about £100,000 a year. The pitches take place this week, and BDO is expected to make an appointment this month.
BDO was recently rumoured to be in advanced talks to take over rival PKF, as it aims to close the gap on the top four audit firms through acquisitions.
However, PKF has denied that any such deal is in place.
In 2009, BDO appointed Leeds-based agency Ptarmigan Bell Pottinger to provide PR support for its Manchester office.
This article was first published on prweek.com
---