---
Additional Information
---
Content
Private View: Russell Ramsey and Simeon Adams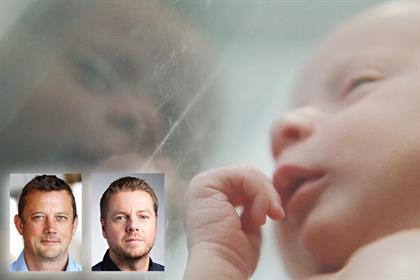 Creative
Russell Ramsey
Executive creative director, JWT London
Who said clients were cutting back on production budgets? It's battle of the bulging wallets this week, with Samsung and Heineken trying to outspend each other to create two enormous productions. "My brand's bigger than yours," they both bellow from the screen.
Samsung first, and it opens with a sweeping helicopter shot. Heineken sees that helicopter shot and opens with a seaplane in the Amazon.
The Samsung extravaganza continues with a cast of thousands. Police fight with cheerleaders, who are then attacked by Roman centurions. A posse of cowboys enter the fray, then some Indians. American footballers battle with a car chase and, believe it or not, a dinosaur. Wow! Money well spent, in my view. It climaxes two minutes in with a guy who holds up his hand to control them like King Canute holding back a wave of Hollywood characters. Turns out Samsung's new TV has motion command. How many tellies will they need to sell to pay for that lot, I wonder?
The Heineken ad is an epic journey from the Amazon to London. It's a version of Planes, Trains And Automobiles, as our hero tries to get to the Champions League final. Unlike Samsung, the product is woven in throughout, although no-one ever seems to drink it. When our hero finally arrives at Wembley via Rio and other exotic places, he lands in a Chinook helicopter for good measure and to pad the budget by another 20 grand. Rushing to his seat, his pretty companion is waiting for him. She's wearing a bright green scarf, wouldn't you know it. Either Plymouth Argyle have made it to the final, or the branding police have been all over this one. A load of semiotics, if you ask me.
Back down to earth and what is probably a minuscule budget in comparison: the NSPCC, which, for obvious reasons, doesn't have money to chuck around. This is actually a pretty engaging film. We hear the voice of a small child while looking at a newborn baby. The voice tells us that this is the child before he was abused and you can do something about it. Nicely shot and music composed by Brian Eno. The ad is spoilt for me by the big NSPCC logo that appears right at the front of the ad, ruining any intrigue, and there are a few too many titles running throughout. It should have been a bit more confident with the idea.
Another charity next. The National Trust campaign is a little bland for me. It uses the well-trodden idea of using the National Trust logo like "I heart New York" from the 70s tourist campaign. We've seen that many times before, haven't we? It's competing with the current British tourism campaign, which also has the logo thrust into the headline. The trouble with this is that the logo isn't that well-known and it's placed on some pretty generic images. I'm not sure what this campaign is trying to tell me. Take my kids to climb a tree? Give some money to the National Trust? I bet they look good on the client's wall, though. Might even blend in with the wallpaper.
The Gocompare.com ad is a triumph. It has single-handedly changed my attitude towards the whole campaign. Until now, they'd made me lust for the remote control or the radio dial to silence the Welsh windbag. This one makes me laugh out loud every time I see it. You can't go wrong with a comedy dog. Even funnier than the Hank Marvin lookalike in the recent Mattessons ad. Can't remember what the offer is, though, and was that the real creative team who were in the client brainstorm?


Planner
Simeon Adams
Partner, Goodstuff
As a media guy, I should start by pointing out the farcical concept, in this day and age, of reviewing a (presumably) single part of an overall campaign in isolation. But that has doubtless been said before and this is Private View, not Pompous View, so I'll just get on with slating (OK, gently critiquing) what I've been sent. After all, every executive creative director I've ever worked under has always said "It's all about the work" and this lot is, undeniably, work. So here goes…
First up is a big ad for big, clever (Samsung smart) TVs. Samsung has raised its creative game. It's like Lynx "millions" for tech geeks. In fact, it's very much like Lynx "millions". But only an advertising geek like me (and, presumably, you) would remember, so most people will just enjoy its epic, sumptuous production values and highly rewatchable details. It's a shame the product is fleetingly tacked on at the end. The cynical, conspiracy theorist in me suspects this is because the user experience disappoints (disclosure: I'm a first-generation smart TV owner) and is never going to be as smart as the TiVo you plug into it.
Next, the parental guilt kicks in… How can I possibly berate an ad for as worthy a cause as the NSPCC? The fragility of the newborn, the stirring music… the generic kids charity voiceover and requests for just £2. Sorry, this doesn't work for me. Before accusations of cold-heartedness – watch the latest Marie Curie Daffodil Appeal spot. Do it now. See – that is an ad that plucks at my heartstrings like a fucking experimental jazz bassist. And has me reaching for my wallet. And that is how it should be done.
In an admittedly less emotionally stunted way, the Heineken spot had a similar effect. A rugged, man-of-the-world chap embarks on a Bondesque (of course), derring-do journey across the globe to get to the Champions League final. Despite its admirably cinematic length, it failed to pull me in. In fact, it had my inner pragmatist screaming about the ridiculousness of random, ticket-gifting waiters, the ticket's waterproof qualities, the unhygienic discomfort of touching a bottle top pulled from someone's ear and the fact that they wouldn't allow glass bottles in Wembley. I should work for Clearcast…
…but if I did, I wouldn't get to voice my view on the National Trust print work. It's brilliant. Obvious, but an overdue and overlooked treatment of The Leaf. We love The Leaf. We worship at the Temple(s) of The Leaf in greater numbers than we attend church. Probably. And now we can wear our Leaf car stickers with greater piousness. It is an idealised view of parenthood and childhood and ignores the tantrums, arctic winds, dirty cafes, absent toilet facilities, dead wildlife and getting stressed about the FUCKING MUD IN MY NEW CAR… But at least, for a moment, it makes me imagine that I could be chasing butterflies with my happy, Boden-clad daughter and a jug of Pimm's.
Finally, I get to the latest offering from Gocompare.com. I want to like this. It has a cute comedy dog, it's playing with the grudgingly established Gio Compario character and there is DEFINITELY not enough melodic, gently comedic Welsh accents on TV these days (you're all racists). But I can't help feeling Wynne Evans isn't as convincing a comedy actor as he is comedy opera singer. More importantly, after the overblown Stephen Hawking and, um, Louie Spence chapters, it seems a bit of a flat end to Gio's singing career. Maybe that's the point…
This article was first published on Campaign Work
comments powered by

Disqus
---